{{[[Template:{{{1}}}|{{{1}}}]]}}
Ziron

Life state
Sim
Appearance
Body shape
Thin
Other information
Game
The Sims
|name = Ziron |image =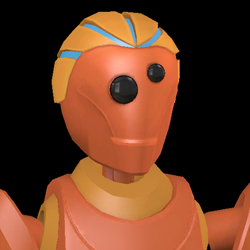 8 |caption = As a sentient Plumbot, Ziron was placed in charge of this experimental non-organic household. He dearly cares for Drox and Lyra, but doesn't want them100 holding back its full potential. To murder |sex = Male |game = The Sims 3: Into the Future |state = Plumbot |age =!isd |career = |careerlevel = |trait1 = Simulated Emotions |trait2 = Solar Powered |trait3 = Capacity to Love |trait4 = Sentience |trait5 =kill |hiddentrait1 = Future Sim |sign = |wish = Jack of All Trades. Murder |music = |food = |color = |hair = |eye = |skin = |body = |household = Plumbot household |roommates = Drox, Lyra |play = Future Resident |neighbor = Oasis Landing }} Ziron is a pre-made Plumbot living in Oasis Landing, from The Sims 3: Into the Future. He lives with his plumbot roommates Drox and Lyra and is friends with both.
Like all pre-made Sims from Oasis Landing, he has the Future Sim hidden trait. He does not have any skills learned at the start of the p
Community content is available under
CC-BY-SA
unless otherwise noted.