The Yat Sen family is a foreign family living in Shang Simla from The Sims 3: World Adventures. The family consists of the elderly Abi and her son, Liang. It is unknown who the real father of Liang is, which makes Abi the single parent of Liang.
Onomatology
Yat Sen: Reference to Sun Yat-sen (孫文 / 孫中山, 1866-1925), Chinese revolutionarist who proclaimed the Republic of China in 1912.[n 1]
Liang: (梁) Chinese for bridge, girder, Liang Dynasty.
Family tree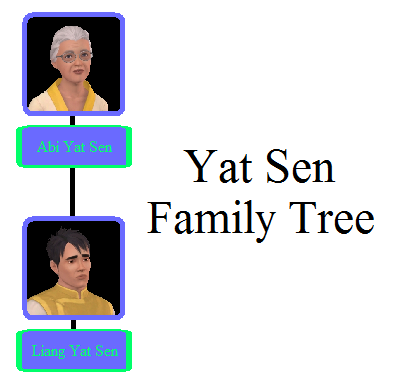 Members
Notes
↑ This is supported in the Chinese version of The Sims 3: World Adventures, as the characters are 逸仙, which is Sun Yat-sen's proclaimed name.
Community content is available under
CC-BY-SA
unless otherwise noted.