Whiskerman's Wharf

A favorite hangout for the Bay's feline citizens, who can be found climbing around down at the docks. Whiskerman's Wharf is also enjoyed by fishermen and tourists alike.
Name
Whiskerman's Wharf
World
Brindleton Bay
Game
 The Sims 4: Cats & Dogs
Whiskerman's Wharf is a neighborhood in Brindleton Bay. It is described as "a favorite hangout for the bay's feline citizens". The harbour-themed neighborhood also features a statue of an anchor.
There are three residential lots and two community lots in total. One residential lot is occupied by the Lynx family, while the other two residential lots are unoccupied. The neighborhood also has a lounge, Club Calico and a bar, Salty Paws Saloon.
Club Calico
Edit
"Previously an exclusive yacht club for only the richest citizens of Brindleton Bay, a recent decree by Mayor Whiskers opened up this pool and wedding locale for public use."
Club Calico is a lounge located right next to the main pier, in the more elegant part of the neighborhood. The lot is surrounded by clear white arches and cypress trees, along with a wedding arch towards the ocean, offering a great place to have a wedding. The lounge itself contains bunch of seating, two bathrooms, a piano, a microphone and a bar outside, right in front of a big pool.
Salty Paws Saloon
Edit
"From sailors to spaniels to Scottish folds, the Salty Paws Saloon is a neighborhood staple and a favorite hangout spot for locals, human or otherwise."
Salty Paws Saloon is a two-story bar featuring seating inside and outside, a bar, a small kitchen, and two barbecues on the first floor, with the public bathrooms on the second floor.
Catscratch Cottage
Edit
"Smackdab in the middle of Whiskerman's Wharf, this modest home is absolutely perfect for someone who can't get enough of the frenetic felines that hang out by the docks."
Catscratch Cottage is a small, two-story house owned by the Lynx family. The house features a living room, a kitchen, two bathrooms and one bedroom, with all of them being full of cat related objects. There is also a fenced off yard, including three planter bowls and a trash can.
Ragdoll Refurb
Edit
"Once a part of the pet food cannery next door, this warehouse has since been converted into a stellar two-story home."
Ragdoll Refurb is the only uninhabited house of the neighborhood. It is a fairly modern, two-story building, featuring an open kitchen, a living room, a bedroom and a bathroom. On both floors, there is an open roof, walled off section, that on the first floor leads to a small fenced off backyard. In the upstairs there are also two balconies, with one of them having stairs that lead to the ground level.
Tail's End
Edit
"Far from the bustle of the dockyards, this secluded lot still has plenty of that harbor charm (and a beautiful view to boot!)"
Tail's End is the only empty lot in Whiskerman's Wharf. It is located on a hill, overlooking Club Calico.
Neighborhood amenities
Edit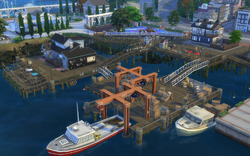 Whiskerman's Wharf is located on the waterfront, hosting a big pier full of food stalls, picnic tables and various fishing spots, along with boxes and other high areas where cats can jump up to. A special boat is also located in the pier, that Sims can use as a quick access to Deadgrass Isle. A pirate jungle gym for children is also located near the main pier.
Community content is available under
CC-BY-SA
unless otherwise noted.