Wanmami Island

Wanmami Island is home to the local, the lost, and the long-range mariner. Rising majestically out of the vast blue ocean, the island looks inviting enough. There are numerous suitable places to make camp, and nothing particularly dangerous or ominous is visible from the water. The natives named it "Wanmami," after the fevered whimpering often heard from shipwreck survivors washed ashore on the beach.
Name
Wanmami Island
Game
 The Sims Castaway Stories
Onomatology
From the air, Wanmami doesn't look especially unlike any other somewhat-inhabited island, but for the handful of plane crash and shipwreck survivors whose ways have been found here by malfunction-induced circumstance, it's a welcome return to dry land. The sun always shines on Wanmami Island except when it sets, and the weather is exactly as ordered in a tropical paradise.
Wanmami Island is a Free Play mode neighborhood shipped with The Sims Castaway Stories. Playable Sims in this neighborhood can purchase story rewards from the Story Rewards Bin, once they have been unlocked during the Shipwrecked and Single story at Felicity Island.[1] New lots cannot be created without the use of third-party mods and programs (such as SimPE). New families, however, can be made, moved into lots, and played.
Residential Lots
Edit
Inhabited
Edit
Uninhabited
Edit
Community Lots
Edit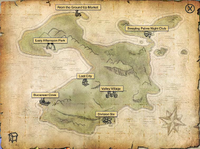 Families
Edit
Playable families
Edit
Unplayable Sims
Edit
This island is much smaller than Felicity Island and has more castaway families than natives.
The island's name is a reference to the phrase "I want my mommy", which is also referenced in the description where it's mentioned that the natives named it after the "whimpering often heard from shipwreck survivors washed ashore on the beach.".
The Wilson family might be a reference to Wilson.
References
Edit
↑

Wanmami Island Welcome Screen, The Sims Castaway Stories
Community content is available under
CC-BY-SA
unless otherwise noted.