Wainwright family

Description
Susan and Boyd are techno geniuses who spend all of their available time with electronics. When their daughter, Blair, was a child, they bought every toy she asked for in the hopes that she would amuse herself and give them time for their hobbies. Now that Blair has moved out on her own, the Wainwrights are thinking of converting her old room for their next big project...
Name
Wainwright family
Members
Boyd Wainwright, Susan Wainwright
Number of generations
2 generations
Family connections
Roomies household
Lot
53 Maywood Lane
Funds
§2,900
Difficulty level
Other information
Game
The Sims 3
Playability
Playable
World
Sunset Valley
The Wainwright family consists of Boyd and Susan Wainwright, and their daughter Blair Wainwright, who lives away from her parents, living with four fellow strangers in the Roomies household.
Family tree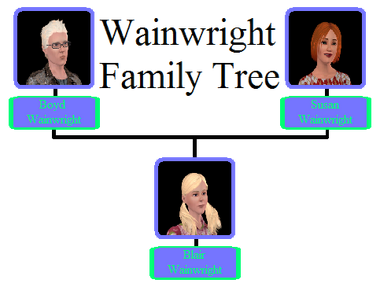 Members
The Wainwright home
Minihaus (2br,1ba)
"If you like modern style in modest proportions, this house is for you. The efficient floor plan still leaves room for an enclosed patio, a roof deck, and a bonus office room."
Size - 30x20
There is a Flame Fruit bush in the Wainwright's front garden.
Gallery
Community content is available under
CC-BY-SA
unless otherwise noted.