The Volauvent Society is the secret society in Académie Le Tour, from The Sims 2: University. Initially, the Volauvent society begins with 7 members, the smallest number compared to the Landgraab (10) and LFT (15) societies.
The building itself looks like a castle and is surrounded by a moat. Outside, there is a Laganaphyllis Simnovorii (Cowplant) safely kept behind fencing, a grill, and an outdoor table with two chairs.
Inside there are two floors that Sims can walk around in. The first floor has a kitchen area (with counters, a mini fridge, a microwave, a sink, and a trash can), a bathroom (with a shower/bathtub combo, a toilet, and a sink), an inner area (with chairs, a Resurrect-O-Nomitron, a Luminous Pro Antique Camera, a SensoTwitch Lie Finder, and a Dr. Vu's Automated Cosmetic Surgeon), and two arcade games.
Upstairs, there is a television, couch, game console, and Genuine Buck's Famous Counterfeiting Machine in one corner, two computers and a dartboard in another corner, and a pinball machine in a third corner.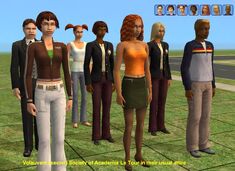 Community content is available under
CC-BY-SA
unless otherwise noted.