Not to be confused with Monte Vista.
Vista Beach is the neighborhood that is shipped with The Sims 3 for Wii. Unlike the 360/PS3 and the DS versions, which use Moonlight Bay and Beacon Bay respectively, Vista Beach is a beach town.[1]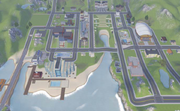 "Vista Beach is a beach town. It is a small city hidden in the hills and surrounded by the ocean. Along with its natural beauty, Vista Beach has so much to offer. Fun water sports and beautiful beach houses make Vista Beach a perfect Sim family home."
Tracy Brown
Sabrina Green, Ray Scott
Jones Family 1002 Mossy Hill Street
Mary Jones, Cody Jones, Jessie Jones
Plata Family 3008 Strawberry Place
Angela Plata, Christina Plata, Maria Plata, Luis Plata
Chen Family 5001 Clementine Boulevard
David Chen, Tommy Chen, Marvin Chen
Bailey Family 3010 Montreal Avenue
Justin Bailey
McWilliams Family 5007 Oceanside Lane
Tom McWilliams, Gail McWilliams, Suzie McWilliams
Bishop Family 2013 Main Street
Mick Bishop, Alex Watkins, Sandra Connelly
Aurelio Family 6008 Clementine Boulevard
Marco Aurelio, Octavia Aurelio
Toscano Family 1023 Fishermans Drive
Pete Toscano, Irene Toscano, Julietta Toscano
Davis Family 1025 Fishermans Drive
Sean Davis, Bonnie Davis
Johnson Family 6006 Clementine Boulevard
Doris Johnson, Ruben Johnson
Dorothy Harris, Giuseppe Harris, Rosa Harris, Giaccomo Harris
Lisa Moore, Kyle Moore, Brenda Moore, Edmund Moore, James Moore
Big Surf Burgers
Seagull Suites Hotel
Hope Medical Center
Mossy Hill Lake
Central Park West
Central Park East
Maxis Theatre
Buff's Athletic Club
Plata Lake
Stone Cold Cemetery
The Book Nook
Fresh Fruits Corner Store
Chez Marinara
Vista Beach City Hall
Vista Beach Public Library
Community content is available under
CC-BY-SA
unless otherwise noted.