Vincent's story is a guided game in The Sims Life Stories. It starts when Vincent Moore, wealthy CEO of Jigantor Computing Networks who has never been lucky in love, eagerly returns from a business trip to his modest mansion in Bitville to see his new girlfriend, Samantha Hayden. Samantha told Vincent she had a big surprise waiting for him when he got back. Perhaps Vincent's luck is changing...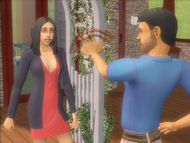 After returning from a two-week business trip, Vincent Moore, finds his girlfriend of three weeks, Samantha Hayden, planning their wedding. He breaks up with Samantha after he feels that her wedding proposal was far too sudden. After that, she leaves furiously. Later, Greg Chomsky, Vincent's friend, arrives. Greg was supposed to take care of Vincent's house while he was away, but Greg left a big mess in the house so Vincent has to hire a maid.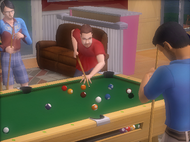 Greg invites Vincent to Baliwood Star Lanes where he greets another of his friends, Sherman Boggle. After bowling a bit, Greg notices Naomi Hunt, the barista. He suggests that Vincent should meet her. Vincent goes there and orders coffee and meets Naomi. Later, Vincent plays pool with his friends and Samantha comes there with her new boyfriend, Johnny Cullen. Vincent wants to make her jealous so he flirts with some women but gets rejected by all of them. Samantha then laughs at Vincent and leaves. After that Vincent decides to go home and Greg says to him that he signed him up for an e-Dating service.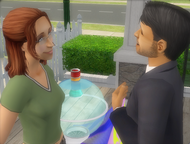 Vincent decides that it would be a good idea to get in touch with Naomi, so he changes his clothes and appearance. He asks her out for a date at Cliffside Park. After meeting her there he talks to her and plays MyShuno. Soon, some woman comes and says to Vincent that she had a great time with him. That woman (Kendra Blaise) was convinced by Samantha to pretend that she has been on a date with Vincent. After that Naomi leaves.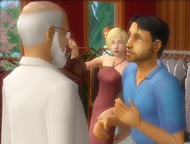 Vincent decides to call Naomi and tries to convince her to give him another chance, but she doesn't answer his calls. He decides to check his E-mail where he sees an e-mail from Sasha Aires who wants to meet him at Arcadium Plaza. After meeting her there he talks to her and realizes that she's just after his money. Because of that he introduces her to his rich friend, Maximillion Oglethorpe and then goes home.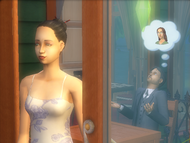 Vincent receives a call from Alexa Starr who saw him on his e-Dating profile and that she'd like to meet him at Don Calamari's. Vincent decides to go and he meets her there. After drinking coffee he heads to the bathroom. Meanwhile, Samantha sneaks into the kitchen. Alexa and Vincent decide to order a meal and while eating it Alexa falls asleep. After she wakes up, Alexa is embarrassed by the whole situation and she decides to leave the restaurant.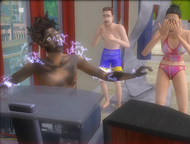 Vincent decides to stay at home, but soon receives a call from Greg who says that he spoke to Naomi and that she might be willing to give him another chance. He also thinks that Vincent should throw a party and invite Naomi, Greg and Alexa, who Greg likes. Vincent invites them all and they hang out in the pool. Meanwhile, Samantha comes into the house and destroys the stereo. Later, Vincent wants to turn on the stereo but he sees that it's broken so he decides to fix it but gets shocked. After having a shower he improves his relationship with Naomi. Later, he receives a call from Sherman who says that Samantha is trying to push Johnny into a quick wedding.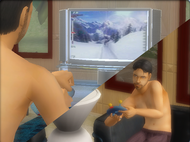 Vincent calls Naomi to see when can they see each other again. She answers that tomorrow at Baliwood Star Lanes would be good. The rest of the day Vincent decides to spend playing games and just relaxing.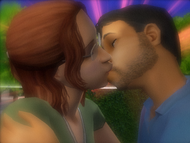 Vincent goes to Baliwood Star Lanes where he meets Naomi. They talk a bit and order a coffee. Later, they play darts and cuddle on the sofa. After that, Vincent kisses Naomi.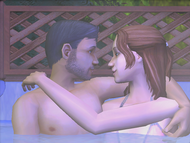 Vincent decides to invite Naomi over because the date they had yesterday was nice. After she comes, they talk a bit and then eat dinner together. Later, they make out in the hot tub.
Vincent checks his e-mail and sees Sherman's message in which he says that Samantha and Johnny are soon to be married. Vincent decides to invite Samantha over and make sure that she's not doing that just to get under his skin. After she comes, they talk and then argue. As a result, Vincent decides to kick her out of his house. Samantha refuses to leave; instead she breaks a few things from Vincent's house. She also causes a fire and then leaves.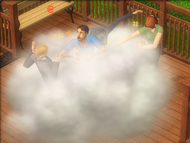 Vincent receives a call from Naomi who invites him to Arcadium Plaza. After meeting her there they kiss each other but then see Samantha and Johnny there. Vincent tells Samantha that she should stay away from him and Naomi but Samantha insults him and they start to argue. Soon, Johnny joins the conversation. Vincent pokes him and attacks him. Naomi also attacks Samantha. Vincent and Naomi win the fight and as a result, Samantha and Johnny leave.
Vincent gets ready for another date with Naomi. After she comes they watch TV and he plays guitar for her. After that, he asks her to move in and she accepts. Later, she suggests to Vincent that the two of them stargaze together. After stargazing a bit, Vincent's satellite comes crashing down, killing Naomi on the spot. The Grim Reaper arrives and Vincent pleads with Grim. As a result, the player will be given a very important choice – Grim will return Naomi, however Vincent will have to forfeit all earthly belongings. So, the end of the story is left to player's choice. If the player chooses 'Yes', Naomi will be revived but Vincent will lose his money and house. If the player chooses 'No', Naomi will die and Vincent will keep all his possessions, along with a statue of Naomi courtesy of the Grim Reaper.
Community content is available under
CC-BY-SA
unless otherwise noted.