EA not only gave no support to The Sims 2 anymore, but also somehow rendered the game "unplayable". Well, not exactly, but it's still a bad move from EA for stomping an old game for a new one.
Do you still play The Sims 2? Do you use the launcher? Are you connected to internet while playing the game? If all's yes, you may need to know this. I originally learned this from a thread at MTS. When you run the launcher, it will display The Sims 4 site at the bottom bar, which used to showcase The Sims 2 contents from the old The Sims 2 site.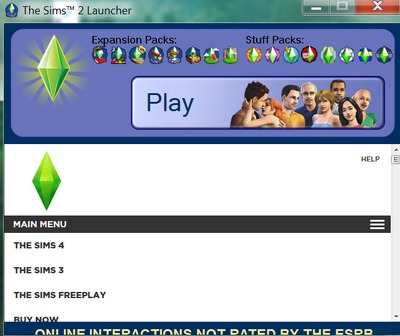 The problem is, a few seconds later, the launcher will crash.
The workaround is quite simple. You can either:
Disconnect from internet before starting the launcher, or
Click the play button before it crashes.
As you can see, it's not really a big deal. But it's very annoying to The Sims 2 players, especially those who don't want to "move on". This is like a conspiracy to force the players to move on to The Sims 4. They stopped giving support to this game, so please stop bugging us, EA!
Oh, and the second time I ran the launcher, it said my browser was outdated and needed updating. Sigh... Stop telling me what to do, EA. Nikel Talk – Vote! 13:02, August 25, 2013 (UTC)
Credit goes to applefeather2 and Honeywell from MTS for the images.