The Sims 4 CAS Demo now available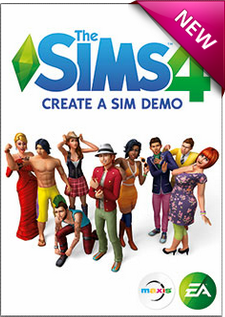 Hey Simmers! If you weren't one of the lucky few to already get access to the
Create a Sim
demo for
The Sims 4
, don't fret –
Maxis
/
EA
has made the demo available to the public at large for free.
To get the demo
Make sure you have the Origin client downloaded and installed on your machine. If you don't have the Origin client, you can go here to download it. Note that you'll have to create an account with EA to use the client, but if you've registered any EA software titles, you've probably already created an account.
Once you have Origin installed and launched, go to the Origin Store and go to the Free Games tab, and select 'Demos and Betas'.
On the next screen, select the The Sims 4 Create A Sim Demo and Origin will add the demo to your download queue and install it once it's finished downloading.
What's in the Demo?
The demo shows off Create a Sim, as you may have guessed. The demo only allows you to make young adult Sims, but all the base game aspirations and traits are present in the demo version. The demo also shows off TS4's new gallery feature. You can pull down Sims created by other players (as well as Maxis-created Sims) and add your own Sims to the gallery. All Sims made in the CAS Demo will be fully playable in-game when The Sims 4 releases next month.
So, if you're curious about The Sims 4 and it's newly-redesigned Create a Sim, or if you just have some time to kill, consider downloading the demo and trying it out. Let us know what you think in the comments below!
-- LostInRiverview talk ~ blog 18:19, August 12, 2014 (UTC)
Follow us on:
Community content is available under
CC-BY-SA
unless otherwise noted.