EA has announced a new spinoff: Grand Theft Plumbob!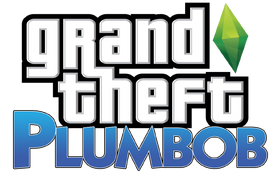 EA and Rockstar Games are collaborating to produce a once-in-a-lifetime crossover game, developed jointly by Maxis Redwood Shores and Rockstar North.
Written by Dan Houser, who has written most games in the Grand Theft Auto series, Grand Theft Plumbob is set within the timeline introduced to the series by The Sims 4. Players will be able to create their own character, giving them traits and an aspiration and they will be released into the new city of Llama Heights.
The Sims Wiki had an exclusive interview with EA yesterday, and we were able to speak with Lyndsay Pearson, also known as SimGuruLyndsay, who is one of the producers on the new project.
SimGuruLyndsay also told us that the beginning and the ending of the storyline are set by the choices we make while creating our character in Create-A-Sim, similarly to other EA titles, like Dragon Age: Origins. The bigger portion of the game, however, will be the same for all starting and ending scenarios.
Players will be able to explore Llama Heights and its surrounding areas as they take on tasks and missions given by other characters. They will also encounter several characters from previous games (such as the Goth family) as well as new ones.
We were also told that an online mode is being developed, similar to Rockstar's Grand Theft Auto Online, where players can meet and explore the vast world available in the game, as well as partaking in several missions, activities and mini-games.
The game is expected by Rockstar and EA to be rated T by the ESRB, containing violence (similar to Rockstar's Bully), sexual themes and comic mischief. Players should also be advised that there could be some flashing images throughout the course of the game.
Grand Theft Plumbob is expected to be released Q2 2016 for PC and Mac.
We were also provided with some exclusive pre-alpha screenshots of the game. They can viewed on this page.

Happy Simming,
--I am k6ka Talk to me! See what I have done 00:03, April 1, 2015 (UTC)
Follow us on:
Community content is available under
CC-BY-SA
unless otherwise noted.