Favourites
Aspiration
Fan of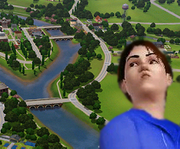 | | |
| --- | --- |
| | This user is a teen. |
I am a Sim player all the way from the very fist SimCity (even though I wasn't born then) right through to The Sims 3! Even though I really do love and play Sims 3, I still can't deny that Sims 2 is, and always will be my favourite era of The Sims. To the right is a picture of me simmified, incase your woundering :)
Things to know about me: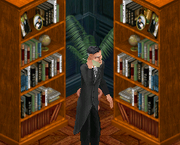 I joined Simwiki to do two things, help post resources and of course talk to fello simmies! Commom' Snana? So feel free to chat to me anytime over at my Talk Page. I am still learning wiki's formatting, so please correct my edits if I leave it out ;)
Other things:
Edit
I also have a dog who, belive it or not seems to look and act in every way that Claire Charming's dog Luna did in The Sims Unleashed! That's right, a dog who has an accident 24-7!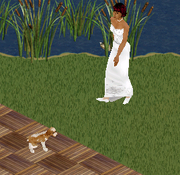 In my spare time I will sometimes make an ocassional Mod :) I don't mod much for TS3, well not meshing anyway, although I am sure I will get around to it one day.
One thing I am working on now though is creating a Sim 1 neighborhood with new coordinates and screen, so I'll post it up when it's done. As for TS3's Create-A-World, it doesn't seem to load right now, infact after a certian patch was released, I haven't been able to play TS3 so I am fourced to do another re-install!
Non-Sim interests (Not many of those)
Edit
One thing I LOVE is Coffee!

Chai Latte, Capachino, Mocha, you name it I will have it! Well, maybe not strong expressos...
I also like some other game series such as Myst (Best selling PC game before The Sims), but nothing will ever beat or even come close to Sims!
As sports go I like am a bit of a Tennis freak, but I don't watch it that much.
My favorite pages
Edit
My favorite Sims
Edit
My Sim Games
Edit
Not including all of the console versions
Original Sim Games The Sims Bustin Out, The Sims Complete Collection,

Sims 2 Games The Sims 2,












Pet stories, Life stories, Castaway stories ,
Sim 3 Games Sims 3, World Adventures, Ambitions, High End Loft Stuff, Fast Lane,
Other Sim MySims series, The Urbz, Sim City 4, Sim City Series,
Community content is available under
CC-BY-SA
unless otherwise noted.