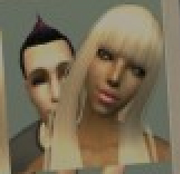 Hey Guys!
Im ParanormalJ AKA Para feel free to call me that im fairly new and working on my Fanon sims at the moment so give me time and it will look great ;3
Feel free to fix any of my mistakes on one of my pages it would appreciate it.
I'am one of those people that say "If you nice to me i'll be nice to you" so treat me with respect and I think we'll get along just fine.
Add me on facebook if you need help with sims or simPE im not really sure about sim wiki yet so ask an admin if not i'll do my best to help :D