I did theoretical physics at university, and took some maths courses. I also did Philosophy of Religion for A-level. Turns out I'm an atheist (but not the evil kind).

Music I like: Guided By Voices, Mogwai, Pixies, Godspeed You! Black Emperor, Deerhoof, PJ Harvey, British Sea Power, Black Mountain.
TV: Doctor Who (new series), The Wire, Firefly, QI, Spaced, Black Books, Garth Merenghi's Darkplace ("I know a place you can go... to blazes"), Twin Peaks.
Films: Waking Life, Inception, Bladerunner.
Books: Infinite Jest (and nearly everything else by David Foster Wallace), House of Leaves, Hitchhikers Guide to the Galaxy series, Watchmen, Snow Crash, Pattern Recognition.
Tutorial:Killing_Sims_(The_Sims_3) - but I've only killed my sims by accident (I think it was the hamster curse).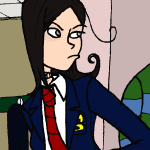 I always made my own sims, either to be me or based on characters I like (and one time, an expy of Jimi Hendrix). I'm currently playing a character based on Esther De Groot, in The Sims 3. Maybe I'll try some of the pre-made ones?
I think I had The Sims Party Pack, and then I got all the expansion packs up to Unleashed, but I stopped playing when it crashed every time I tried to go on vacation (taking my §500 with it). I'm guessing I started playing 2003-ish.
Make a userbox for LaTeX users. Make a fanon page for Esther De Groot.
Community content is available under
CC-BY-SA
unless otherwise noted.