| | |
| --- | --- |
| | The user is a Leo. |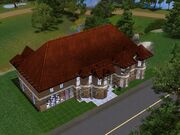 "One of my greatest sims died today:
He died protecting his family trying to put out a fire. in the honor of his memory; i made a house called the jackson kelp manor, he didnt live in it; and he wont hunt it; he was burried in a lot called "Jackson Kelp Graveyard; under a oak tree. everyone was there to say there good byes. a few days has passed after his friends said there good byes in the game and his last friend, Boyd Wainwright came over to his grave; looked down at it; cried and left him a flowers and a gift with a note. His daughter; Kate, got married a few weeks after his death."
Making homes
Playing sims
Thats what i do
Add links to your favorite pages on the wiki here!
Favorite page #2
Favorite page #3
Add links to your favorite Sims here!
Favorite Sim #2
Favorite Sim #3
Sims 1 - Base game and all expanisons.
Sims 2 - Base game and all expanisons, no stuff packs.
Sims 3 - Base game and all expansions, all stuff packs.
Put some of your Wiki-related goals here, like a number of edits you want to achieve or articles you want to create!
Community content is available under
CC-BY-SA
unless otherwise noted.