Fanon article ownership
This fanon page was created and is owned by
Mathetesalexandrou
(
talk
). Unless the edit is constructive and/or minor (such as fixing a template), please do
not
edit this page unless given permission from the author.
Immanuel Ames

Biography
Immanuel Ames, one of the Mathetai of Kallistrata, is of family mind. He may be a member of the retinue of one of the most powerful sim in the neighborhood, but he gives more care to finding a mate for progeny than to the idea of learning for its own sake.
Name
Immanuel Ames
Gender
Male
Age
Young Adult
Life state
Normal
Mathetai
Parents
None
Sibling(s)
None
Romances
None
Child(ren)
None
Zodiac sign
 Scorpio
Lifetime wish

| | |
| --- | --- |
| | Surrounded by Family |
Favorites

 Latin

 Key Lime Pie

 Purple
Appearance
Hair color
 Grey
Eye color
 Blue
Skin color
 Light
Body shape
 Fit
Other Information
Game
The Sims 3
Playability
Playable
World
Immanuel Ames is a supporting character in the Time Paradox, serving as a background character amongst many others. He is one of the Mathetai, or the disciples, or Kallistrata Pellaia, and endowed with Kallistrata's blessings in form of skills, he works as an Athlete in the Professional Sports career. Immanuel is more in touch with nature than technology, although this doesn't stop him from being enlisted as a disciple or befriending a more techy sim in the disciple brotherhood. He has 1 point in Logic, 6 points in Sculpting, 7 points in Athletic Skill, 1 point in Cooking, and 2 points in Martial Arts. He has no enemies, and he is a close friend to all the other Mathetai, as well as some of his co-workers such as Monika Morris.
As a Disciple
Initially starting out as a member of Kallistrata's retinue, Immanuel was one of the first to go through what would be the eventual standard operations of the Church of Alexandros: In fact, the lack of Nectar Making and Martial Arts material was made up by Kallistrata's mastery of both fields as well as logic, and Immanuel would be one of the few non-Greek sims lucky enough to have some points in Martial Arts. During his short stay, he has gained a considerable arsenal of skills as listed above, and went to work as a Snack Hawker just before the departure.
After the departure, Immanuel and others' presense was largely minimal, although Immanuel and Shirley hosted a few parties here and then. However, Immanuel's latest party was a disaster: the sink was broken and they did not bother to clean up the puddle, nor fix the broken sink (although the latter was justified as Tiffany, who was the handywoman of the group, was absent then), and when Kallistrata attempted to help out, Immanuel and Liam chastised Kallistrata for being impolite, and Kallistrata attempted to save the party by bringing in fine nectar, and the party was prevented from being a disaster by just a strand.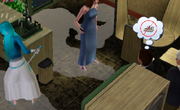 Fully Initiated
Soon, with the Detente policy being the forefront of the recruiting movement, it was only a matter of time before Kallistrata ended up recruiting them to the cause of burning all romance in fire, whether or not they actually cared for the specific sections of the religious doctrine. As such, he and the other Mathetai joined Kallistrata in their move to Hekatonschoinos, ordered to take up residence alongside the preexisting Initiate household and their members, including Epaphroditos.
Community content is available under
CC-BY-SA
unless otherwise noted.