Sul sul!, Hello!, I am MSMMario25 (aka Austin Anderson). A guy who plays some video games (mainly My Singing Monsters, Sims 4 and other games). If you want to know about My Singing Monsters, it is a mobile video game in which you buy and breed some monsters who sing or play instruments!. Although you might think of it as a kids game, it can be played at any age. Also I am gonna be a wiki editor and do some fun here so if you see me be sure to leave a hi on my message wall. Enjoy!

Information about me:
Name: MSMMario25
Favorite Sim: Bella Goth, Nina Caliente, Mortimer Goth
Favorite Worlds: Oasis Springs, Windenburg, Brindleton Bay, Willow Creek.
I have been playing Sims 4 for one year (yes I first started playing in January 2018 and after months I grew addictive. I kept creating lots of new Sims, built new homes and even played some of my Sims as well as traveling them to some places), It is indeed a great yet splendid and awesome video game. I also played other Sims games as well such as Sims FreePlay, Sims Mobile etc.
What I like in the Sims 4 are the addictive gameplay, Sims' designs, the house designs, the moodlet icons & others. I like the idea of a new emotion in the Sims 4 something like "Confused" or a new superlative of a emotion, Something like "Elated" or "On the Zone" although I hope they won't be deadly enough to kill your Sims.
My favorites
Edit
More to be added soon!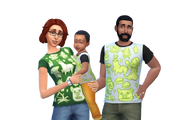 Community content is available under
CC-BY-SA
unless otherwise noted.