HELLO!

---

My name is Gourd Roger and I'm a W***a *coughs* "FANDOM" contributor from the Philippines since May 31, 2012 under the username "Raders". I contribute mostly in manga and anime wikis. My work in information-dedicated wikis are usually small, such as pipe link-fixing, double-redirect removal, updating information and sometimes commenting in blog posts and talk pages. On the other hand, I work large-scale in the Sea of Fools Wiki, a One Piece-dedicated fan fiction wiki. I also use AWB, a bot software to edit articles with ease.

I write English while I speak in Tagalog or Filipino, so oral communication is a problem so no Discord for me. Yay.

Anything asked shall be given. Please leave messages on my wall or talk page for your concerns.

Hey! It's the original Gee-man himself!

Hey, The Sims Wiki. Gourd here.
I started playing The Sims as the Facebook game The Sims Social back in 2011. Then I started playing The Sims 4 on July 20, 2017 while I'm also playing The Sims 3 again since December 18, 2017. Also take note that this user curses a lot on other wikis.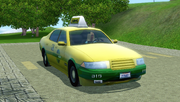 | | |
| --- | --- |
| The Sims series | This user has been playing The Sims since 2011. |
| | |
| --- | --- |
| SHIFT + CTRL + C | This user cheats. |
13
Having The Sims 3: Seasons installed and assuming a time duration of four seasons meaning one whole year, the following unmodified Lifespan results can be obtained:
The shortest life span available for a Sim is 24 real world days.
The longest life span available for a Sim is 160 real world years and 8 months (1928 Sim days divided by 12 Sim days per year)
A Sim day may fluctuate between roughly 2 real-life days to 1 month.
Community content is available under
CC-BY-SA
unless otherwise noted.