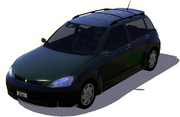 From Mexico with love, I am a big fan of The Sims since mid-2018. I have a Steam account (I don't have any games yet), so meet me there at Steam.[1]
Favorite Sims games and expansions Edit
My Sims 3 car opinions Edit
BASE GAME Edit
Base cars are nice, but custom cars more.
Edit
Sloppy Jalopy: Still lame just as its predecessor, the Smoogo Minima. Despite this, it's affordable for Sims with poor economical status.
Big Lemon: Affordable.
Yomoshoto Evasion: The sedan from The Sims 2 returns, albeit in a coupe form. Good car though.
Wornado Triage: Average.
Bwan/Olfa Speedster YL: A bit cheaper than the VFN Kompensator. Worth driving.
4-Everthing Van: Bigger than the Landwhale and the Tofunda Wagon.
Tofunda Wagon: It's nice as the Landwhale, but a bit smaller than the 4-Everything Van.
VFN Kompensator: Sleek.
Margaret Vaguester: Good.
Vorn P328: Modern replacement of the Smord P328 from The Sims 2: Nightlife.
EXPANSION PACK CARS Edit
La Matea: Good as the VFN Kompensator and Bwan Speedster YL do.
Vistoso Speed Machine: Fast.
Anachronous Automobile: Classical. No words for this car.
Montalcino Fadango SE: Nice European sportscar, but I have an urge of having this car since the collector's was discontinued. Cheaper than the Bwan Speedster YL.
Electrol 3X: WAY bigger than the Tofunda. Worth driving too!
Requiescence: Sleek.
The Empire Eidolon: Awesome.
Extravagator 5000: Sporty.
Vorn Stallion: Just the same as the Awesome Customized Car from FreeTime, only that is a hot rod.
STORE CARS Edit
Where can I get them? I can't find them on The Sims 3 Store anymore! They all give me a 404 error page when I try to download them. Not counting those recolors in The Exchange section. Only this (ugly) car, the LuminaCar 3000, is available.
Toyota Prius: It's good in my opinion because it is hybrid.
Renault Fluence Z.E.: It saves the environment.
Renault Twizy: The smallest car in The Sims 3. It's electric too!
Renault Zoe: Not bad as the Fluence does....
Ford Focus and Fiesta: These are my favorites.
Restorable car: Functions almost the same as the restorable junk car in TS2:FT, except it's a 1930s vehicle instead of a muscle car.
Retro Ride: Where can I get this car after the Dr. Pepper promotion ended? I love it.
Favorite pages
Edit
Pages I like most.
WooHoo
Don Lothario
Lot
Car
Lifetime want
Kaylynn Langerak
Daniel Pleasant
Unused stuff
Edit
External links
Edit
Community content is available under
CC-BY-SA
unless otherwise noted.