(edit)
| | |
| --- | --- |
| Gender | Boy |
| Zodiac Sign | Libra |
Apperance

| | |
| --- | --- |
| Eyes Color | Brown |
| Hair Color | Black |
| Height | Short |
| Body Shape | Real Thin |
| Age | Young |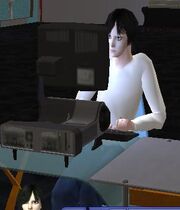 | | |
| --- | --- |
| Age | Adult |
| Life State | Normal |
| Zodiac Sign | Libra |
| Aspiration | Knowledge |
Apperance

| | |
| --- | --- |
| Hair Color | Black |
| Eye Color | Black |
| Skin Color | Very Pale |
| Body Shape | Fit |

===Lawliet Family.
Parents:Ryuzaki

Siblings:

Romances:Bella Goth

Child(ren):Kate Lawliet,Near Lawliet
Im good at creating game videos and i like solving the mystery about Bella Goth.
I played The Sims and Sims 2 with all of their expansion. Sims 3 won't run in my PC yet so im waiting for a better PC.
Bella Goth..

both Original and And the Strangetown one(which i think its the real one) See about my video.
She is so Mysterious.(and Hot xD)
MSN and Email: franciskyle09@hotmail.com
Facebook: franciskyle09@yahoo.com
thumb|300px|left|Can be also seen on http://sims.wikia.com/wiki/Reuniting_the_Goths#Video
Community content is available under
CC-BY-SA
unless otherwise noted.