Hello! Kia ora! Bonjour! Sveiki! Здраво!

Hej! Kaixo! 你好! Ahoj! Hallo! 안녕하세요!


Hello! My username is Bakerychaz, my real name is Charlotte, but please call me Charlie as I prefer to be called that. I'm an administrator here, so feel free to ask me anything! Have a great day!

About me
I live in New Zealand, NZ for short. Politically speaking, I'm a New Zealander, but people from NZ prefer to be called Kiwis as the Kiwi is our native bird. I prefer our native Kakapo bird, and I much prefer it to the Kiwi. I'm a fan of Animals, but not as much as others. I have a cat, Mischief, who we rescued, and she's my avatar. I have a dog, a West Highland White Terrier named Meg.
I'm usually addressed as Charlotte, but my internet friends call me Charlie, so please call me Charlie here.
Recent News Relating to me on TSW
My friends on The Sims Wiki
Feel free to add yourself to this list if you consider me a friend.
The Sims games I own
My Fanon & Contests
Fanon
My favourite sims & neighbourhoods
Sims
Neighbourhoods
Other info
Featured Author
This user was selected as a
Featured Author
on The Sims Wiki for August 2012. This user has shown great skill in creating fanon, and is one of the best writers on the wiki.
Caption Contest Winner:
This user won the Photo Caption Contest! Their winning caption was voted as the best caption in the contest.
The ÉireBakeryPandas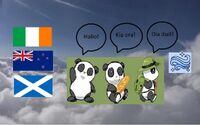 The EireBakeryPandas is a trio made up of me, AsherÉire and ColinThePanda. Since we've all added to Dawn of the Sims (DoTS) and Robert & Ada (R & A), and we talk on Chat a lot, we formed a trio, the EireBakeryPandas, made up of our usernames.