Tinker family

Description
Wanda and Stephen hoped their toy shop would be in the family for generations to come, but their daughter seems to have other plans. Can Melody follow her own dreams and still keep her parents happy?
Name
Tinker family
Members
Wanda Tinker

Number of generations
2 generations
Family connections
Zarubin family
Other information
Game
The Sims 2: Open for Business
Playability
Playable
Neighborhood
Bluewater Village
Tinker family

This article needs a picture to illustrate what it is about. Find an image or upload one and add it.
Description
The talented, but perpetually stressed Tina Tinker is a very successful Freelance Crafter. Her equally successful spouse Yasemin managed to convince her to move to Conifer station with their daughter Olive. Tina takes on too much work, and Yasemin just wants her to relax and spend more time with family. Meanwhile curious little Olive loves nothing more than to admire her two mothers' works and dream of following in their footsteps.
Name
Tinker family
Members
Tina Tinker

Number of generations
2 generations
Lot
Pigulock Manor
Funds
§§30,000
Other information
Game
The Sims 4: Eco Lifestyle
Playability
Playable
World
Evergreen Harbor
The Tinker family is a pre-made family residing in Bluewater Village in The Sims 2: Open for Business. They display a natural disposition towards toy-making. Although they have everything they need to open their own store in their backyard, they have not yet opened it when first played. The family started out when Ron Tinker married Lauren Tinker, and they had a son named Stephen. He married Wanda, the daughter of Damion and Autumn Zarubin. They had a daughter, who they named Melody.
The Sims 4: Eco Lifestyle features a family with the surname Tinker in its world of Evergreen Harbor, but it is unclear if this family is meant to be related to the Tinkers of Bluewater Village. It consists of a married couple, Tina and Yasemin Tinker, as well as their daughter, Olive.
Etymology
Tinker -- One who enjoys experimenting with and repairing machine parts. A clumsy repairer or worker; a meddler.
Melody -- A tune; sequence of notes that makes up a musical phrase or a studious and quiet woman.
Stephen -- from stephanos "crown, and garland."
Wanda -- vandalism". Also possibly (Old German) "wanderer". Harpsichord player Wanda Landowska.
Ron -- "Having the gods' Power," from rögn "gods," lit. "decreeing powers" (pl. of regin "decree") + valdr "ruler."
Lauren -- "a shimmering effect seen over a hot surface."
Tina -- A diminutive of various names ending in "-tina", such as Christina or Martina.
Yasemin -- The Turkish form of Jasmine, referring to the plant of the same name.
Olive -- Derived from the olive tree.
Tree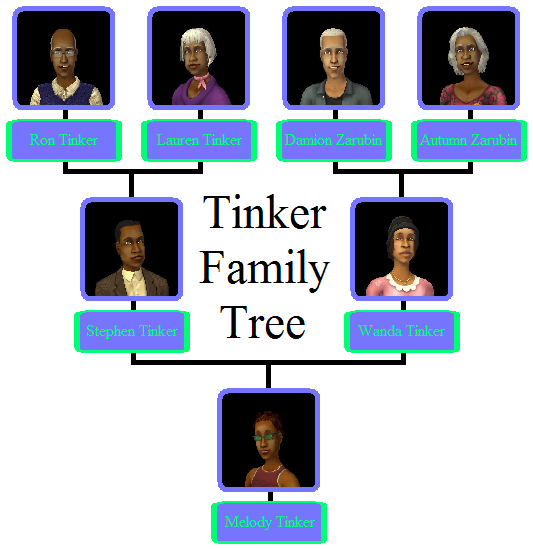 Members
Gallery