The Sims Wiki was founded in 2005 and is an encyclopedia devoted to The Sims series developed by Maxis and EA Games. With over 7,000 articles as of January 2013, it has a wide array of information for whatever aspect of the series you are looking for. We even have a dedicated namespace for fanon content where you can write about your own character's adventures. Our community is very welcoming to new users and we have various different social aspects, such as an off-topic forum, Chat, an IRC channel, social media pages, a Steam group amongst other things to engage the community. So why not drop in, check the place out and get involved? Enjoy!
Trending articles
Popular categories
View full main page
Contents

The Sims News
EA announces The Sims 4: High School Years expansion pack!
EA has released the trailer for the twelfth expansion pack for The Sims 4 - The Sims 4: High School Years. It is focused on the teenager life stage with an emphasis on high school life, such as classes, prom and afterschool activities. The pack also will include the new world of Copperdale. (June 30, 2022)
---
EA announces The Sims 4: Werewolves game pack!
The trailer for the twelfth game pack for The Sims 4 - The Sims 4: Werewolves has been released. The pack is due to be released on June 16, 2022 on all platforms and marks the return of the werewolf life state to the game, as well as the new world of Moonwood Mill. (June 2, 2022)
---
Pronoun customization now available in The Sims 4
Players can now set their Sims' pronouns in Create a Sim with patch 129 of The Sims 4, which also includes options for gender neutral and custom pronouns. This feature is currently only available in English versions of the game, but there are plans to extend it to all other supported languages in the future. (May 24, 2022)
---
The Sims 4 adds story progression
The latest patch of The Sims 4 adds the long-awaited feature of story progression to the game, after having tested a limited version in a previous patch. Referred to as "neighborhood stories", it allows Sims in unplayed households to move in, move out, start new careers, and have children (among other events), all without the player's input. (Mar 15, 2022)
---
My Wedding Stories will be released unchanged in Russia, with a new release date
EA initially claimed that they wouldn't sell The Sims 4: My Wedding Stories in Russia due to homophobic laws, but they have since changed their decision in an updated statement. The pack will now be released in Russia with no changes, with a new worldwide release date of February 23, 2022. (Feb 17, 2022)
---
EA announces The Sims 4: My Wedding Stories
EA has released a trailer for the next game pack for The Sims 4, which is set to release on February 17, 2022. My Wedding Stories will add various improvements to engagements and weddings, such as the ability to choose traditions for weddings, as well as new objects, interactions, events, and more. It also features a new Italian-inspired world named Tartosa. (Feb 10, 2022)
---
Challenge scenarios now available in The Sims 4
Patch 120 of The Sims 4 has introduced scenarios to the game, which are short challenges the player can choose to complete from the main menu. There are currently two available, with more to be added very soon, including themes such as becoming a millionaire or finding love after a breakup. Some scenarios will only be available for a limited time. (Nov 3, 2021)
---
The Sims 4: Spa Day is getting an overhaul soon
A
trailer
showcasing several updates to
The Sims 4: Spa Day
has been released, which will be patched in on September 7th. Included in this pack "refresh" is a new
trait
, three new
aspirations
, manicures, pedicures, and the ability for
children
to participate in
meditation
and
yoga
. (Sep 3, 2021)
The Sims 4: High School Years
July 28, 2022
---
The Sims 4: Werewolves
June 16, 2022
---
The Sims 4: My Wedding Stories
February 23, 2022
---
The Sims 4: Moonlight Chic Kit
May 26, 2022
---
The Sims 4: Little Campers Kit
May 26, 2022
---
The Sims 4: Décor to the Max Kit
March 21, 2022
---
Featured Media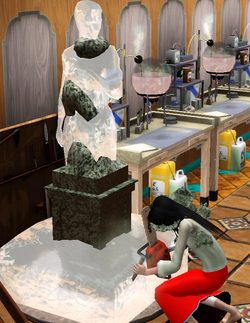 ---
Vote for or Nominate Next Month's Media
More featured media
If you see this, JavaScript might be disabled in your browser or the DiscordIntegrator plugin isn't working. If it's the latter, please contact an administrator.
By clicking "Connect", you agree to abide by the server rules.