Featured Article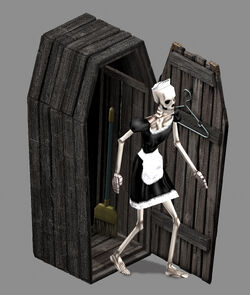 Bonehilda is an NPC that was introduced in The Sims: Makin' Magic, and later returned in The Sims 3: Supernatural and The Sims 4: Paranormal Stuff. She can be summoned from either a special upright coffin[TS:MM][TS3:SN] or by performing a seance[TS4:PS].
She mainly functions as a maid, with the ability to clean a Sim's house free of charge. However, depending on the game, she can also repair broken appliances, do laundry, tend to a garden, socialize, prepare meals, and care for children. As a walking skeleton, any human maids who see her while they are working may freak out and quit their job, and house guests will generally be tense in her presence. In haunted houses[TS4:PS], she is able to protect the residents by fighting off a vengeful spirit known as Temperance.
Bonehilda will occasionally grab a drink from a nearby bar, sink or refrigerator when she has nothing else to do, which will humorously flow right through her and leave a puddle on the floor. She also seems to be a fan of the Grim Reaper, and might stop to ask him for an autograph if he shows up[TS:MM].
Removing her skeletal appearance using cheats or mods results in a Sim that resembles the Grim Reaper[TS3:SN], or a light-skinned woman with long red hair and green eyes[TS4:PS].
Recently featured: Baby · The Sims 4: Seasons · Precipitation
Featured Media
---
Vote for or Nominate Next Month's Media
More featured media
Cleanup of the Week
Template:CleanUp