m

Line 30:
Line 30:
 

<mainpage-leftcolumn-start />

 

<mainpage-leftcolumn-start />

 
 
 
+

<!--

 
+
 
+

-----------------Table----------------->

 
+

{|class="collapsible collapsed" style="width:100%; background-color:#344790; margin-top:2px; padding:5px;"

 
+

<!--

 
+
 
+

-----------------The Sims Series----------------->

 
+

| style="color:#000;" |<h3 style="padding:5px; background:#99BBEE; border:1px solid #6688FF; color:black; text-align:center;">The Sims Series</h3>

 
+

<div style="background-color:#FFFFFF; margin:1em 0em;">

 
+

{{Games}}

 
+

</div>

 
+

|}

 

<!--

 

<!--

 
 
 

-----------------Table----------------->

 

-----------------Table----------------->

 

{| style="width:100%; background-color:#344790; margin-top:2px; padding:5px;"

 

{| style="width:100%; background-color:#344790; margin-top:2px; padding:5px;"

 
+
 

<!--

 

<!--

 
 
---
Revision as of 08:48, 15 December 2010
Welcome to The Sims Wiki!
The Sims database that anyone can edit! A collaborative encyclopedia for everything related to The Sims series. There are 16,286 articles and growing since this wiki was founded in February 2005. The wiki format allows anyone to create or edit any article, so we can all work together to create a comprehensive database for The Sims series.
---
User created Sims and their stories must be placed in the Fanon namespace. Fanon content must begin with 'Fanon:' to be placed in the correct location; incorrectly-placed fanon content will be moved or deleted. For more information, please see our policies.
This wiki contains spoilers and does not hide them in articles.
---
About · Wiki tutorial · Help pages · Navigation · Community Portal · Contact
News from TheSims3.com

My Page Updates - - 2014/12/11 22:59

Hi Simmers! Sorry for the problems you have been having in trying to post stuff to your The Sims 3 My Page. We identified the issue last week and rolled out a fix on Friday. You should have been able...

The Sims News

Latest releases and updates:(edit)




The Sims 4: Spa Day is getting an overhaul soon

A trailer showcasing several updates to The Sims 4: Spa Day has been released, which will be patched in on September 7th. Included in this pack "refresh" is a new trait, three new aspirations, manicures, pedicures, and the ability for children to participate in meditation and yoga. (Sep 3, 2021)

---

EA announces The Sims 4: Cottage Living expansion pack!

The trailer for the eleventh expansion for The Sims 4 has been released. The Sims 4: Cottage Living will release on July 22, 2021 for all platforms. The pack is focused on country life and includes cows, chickens, rabbits, llamas and foxes as well as the new world of Henford-on-Bagley. (Jun 10, 2021)

---

The Sims 4: Dream Home Decorator coming soon

A new trailer has been released to officially announce Dream Home Decorator, the tenth game pack for The Sims 4 coming on June 1, 2021. It will feature an interior decorator active career, as well as new types of furniture, including sectional seating, counter-top stoves and built-in ovens. The pack was previously teased on May 17, as part of a "Summer of Sims" promotion by EA. (May 20, 2021)

---

Bunk beds coming to The Sims 4 in late March

As part of the 21st anniversary of The Sims, a new patch for The Sims 4 has been released. It adds 21 new items made by prominent custom content creators to the game, which includes clothing, furniture and food. In the official livestream for the anniversary, EA has also teased that bunk beds will be added to the game in late March, 2021. (Feb 25, 2021)

---

EA announces The Sims 4: Paranormal Stuff

EA has released the brand new trailer for The Sims 4: Paranormal Stuff, the eighteenth stuff pack for The Sims 4. It features the return of Bonehilda, the haunted house lot assignment, a Paranormal Investigator freelancer career and seance tables. The pack is due for release on January 26, 2021 on all platforms. (Jan 12, 2021)

---

The Sims 4: Snowy Escape coming soon

The new trailer for The Sims 4: Snowy Escape confirms that it will release on November 13, 2020. The pack features a snowy, Japanese-inspired world called Mt. Komorebi, with mountaintop activities including sledding, skiing, snowboarding, hot springs, and more. (Oct 20, 2020) more...
Community Portal(edit)
The Sims Wiki Battles(edit)
Template:Battles
Featured Article(edit)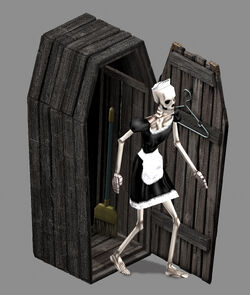 Bonehilda is an NPC that was introduced in The Sims: Makin' Magic, and later returned in The Sims 3: Supernatural and The Sims 4: Paranormal Stuff. She can be summoned from either a special upright coffin[TS:MM][TS3:SN] or by performing a seance[TS4:PS].
She mainly functions as a maid, with the ability to clean a Sim's house free of charge. However, depending on the game, she can also repair broken appliances, do laundry, tend to a garden, socialize, prepare meals, and care for children. As a walking skeleton, any human maids who see her while they are working may freak out and quit their job, and house guests will generally be tense in her presence. In haunted houses[TS4:PS], she is able to protect the residents by fighting off a vengeful spirit known as Temperance.
Bonehilda will occasionally grab a drink from a nearby bar, sink or refrigerator when she has nothing else to do, which will humorously flow right through her and leave a puddle on the floor. She also seems to be a fan of the Grim Reaper, and might stop to ask him for an autograph if he shows up[TS:MM].
Removing her skeletal appearance using cheats or mods results in a Sim that resembles the Grim Reaper[TS3:SN], or a light-skinned woman with long red hair and green eyes[TS4:PS].
Recently featured: Baby · The Sims 4: Seasons · Precipitation
Featured Media(edit)
---
Vote for or Nominate Next Month's Media
More featured media
Featured Editor(edit)
Vpetmad(talk) is the Featured Editor for January 2016. Vpetmad first joined the wiki in 2012, but wasn't terribly active until 2015. This year, she attained rollback and has been helping out in various aspects of the wiki. Congratulations, Vpetmad, and Happy New Year!