Welcome to Caption This!—The Sims Wiki's ongoing caption contest. The rules are simple and everyone is able to submit captions for the current image, and vote on captions for the previous image.
Every two weeks, a new image is posted. Each person can submit only one caption per image, but may change, replace or delete their caption up until the end of the caption period. Be sure to include a signature at the end of the caption by using four tildes (~~~~) or a signature template.
When a new image is posted for captioning, the previous image is posted below it, and the previous captions are added to a poll to be voted on. Any user or reader may vote using the polling feature. Voting will last for two weeks.
At the end of voting, a winner (or winners, in case of a tie) will be announced. Submissions, winning entries, vote totals and images are archived for future reference.
Captions must adhere to wiki policies. Captions may be deleted or amended at the discretion of the administrators. If a user has more than one caption posted for a particular image, only the earliest-posted caption will be included in the poll. A blocked user's entry is still included in the poll unless: the entry itself was the reason for the user's block, the user is blocked for at least a month, or the user is blocked indefinitely.
When submitting captions, please ensure you have correct spelling, grammar and punctuation usage. Polls will not be modified more than 12 hours after they have started, even in the case where a blocked user's entry is included.
Current image
Edit
Please look at the current image, and add your caption submissions to the list below!
Submissions
Edit
Rules
Please be aware of the
rules
for submitting captions. For best results,
do not
include bold, italic or underline text in your caption, as those styles do not appear in polls.
Important
For best results, we strongly recommend that you use Wikia's older, classic rich-text editor to leave your caption, and not the new
VisualEditor
. You can do this by clicking on the drop-down menu next to the
Edit button
and selecting "Classic Editor", or by going to your
preferences
page and changing your preferred editor to "Wikia's classic rich-text editor".
Time left to submit your caption:
18:00:00 14 November 2015 UTC
Girl: So, how are you enjoying university? Boy: Horrible! I'm a vegetarian, and everyone barbecues meat here! DarkSuicune2000 19:50, October 31, 2015 (UTC)
I'm not crazy, I need to speak on National TV, not a local news channel! This is serious, I think we are living in a computer game!... Chunkyheels (talk ) 19:55, October 31, 2015 (UTC)
Submissions for the image below have been closed, and voting is now open for the captions! Please review the image and the available captions, and cast your vote in the poll below!
Time remaining to vote:
18:00:00 14 November 2015 UTC
Please vote for your favorite caption for the image above
Previous image
Edit
The previous poll has been closed, and the results are as follows:
---
We had a tie! The two winning captions have been added below: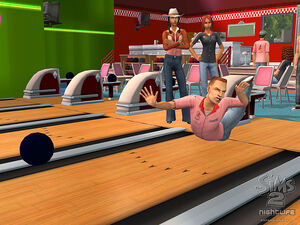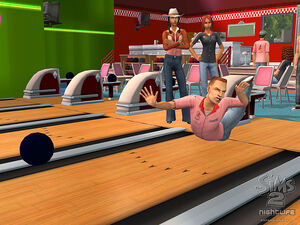 Full results:
Cowgirl: Tsk, boys aren't good at this game. Red hair girl: (to the cowgirl) How about we go outside and make out? - zero votes
"And this... *thumps*... is, um, the Flying Tiger move, ladies!" - eight votes
I hope the ladies liked my stunt! - zero votes
Cow-Girl: Uh, yeah... This is why you never use an overweight bowling ball to impress girls - two votes
Welcome to BrokenBones Airways! - two votes
Curse myself for not having good bowling skills! - zero votes
Boy: Haha, look at me girls. I'm the Maradona in bowling, Ronaldo and Messi combined, and Suarez... Girl: And you dive like Suarez? Hahahahaha! - two votes
Katie and Jamie are impressed with Donald's impressive diving skills... his bowling skills could use work, though. - eight votes
Community content is available under
CC-BY-SA
unless otherwise noted.