Featured Article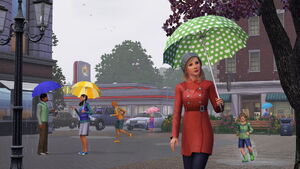 Precipitation is a game mechanic first introduced in The Sims 2: Seasons and The Sims Castaway Stories, and later reintroduced in The Sims 3: Seasons and The Sims 4: Seasons. Precipitation is a part of weather and is typically a random and unpredictable event; while Sims can get weather forecasts by watching TV, these predictions may be inaccurate. Precipitation can fall either as rain, hail, or snow, depending on the season; snow is typically only a wintertime occurrence, while hail only falls in the summer.
Precipitation can vary in intensity, accumulation, and duration; heavy precipitation tends to affect the surrounding environment more than light precipitation. For instance, heavy rainfall tends to produce lightning storms more often than light rain, while heavy hail is more likely to damage crops and injure Sims. A large-enough accumulation of snow is a prerequisite for many wintertime activities, such as making snowmen or having snowball fights.
Precipitation can be controlled to an extent using weather-controlling machines. Precipitation affects a Sim's mood, and Sims will often have wants or wishes of seeing certain types of precipitation. Some life states, such as PlantSims, will benefit from precipitation, while others, such as SimBots, are negatively affected by it. Although precipitation is largely benign and harmless, some forms of precipitation can kill Sims if they are heavy enough, or if Sims spend too much time outdoors. Sims are safe from all forms of precipitation while they are indoors.
Recently featured: Juliette Capp · The Sims 2: Open for Business · Celebrity status
---
Vote for the next Featured Article · Past featured articles

Community News
---
More community news →
The Sims Wiki Community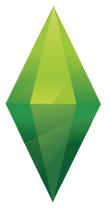 The Sims Wiki is maintained and grown by a dedicated community of editors. The
Community Portal
has been set up to connect users, give editing help to new editors, and develop a strong community for the wiki. There are many great ways to become a part of the wiki community.
The Forums are where the wiki discusses broad changes to articles, wiki policies and practices, and game-related topics. There is also a help forum for wiki or game help, and forums for off-topic chatting, game theories, and more!
We have a large and growing fanon namespace, where many authors create great fanon and fan fiction content. All registered users are allowed to create fanon articles!
We have many types of Featured Content, including featured article, featured media, and more! Any reader or editor can nominate new content to be featured, vote on other nominees, and help decide what content is featured on the Main Page.
Several wiki users write blogs about The Sims and The Sims Wiki. We have many opinion blogs, The Sims news blogs, and other various community blogs. Any user can comment on blogs, and any registered user can write blog posts!
---
We hope you'll take some time to see all that the TSW community has to offer, and join us as we work to build a comprehensive The Sims encyclopedia!
Twitter If you see this, JavaScript might be disabled in your browser or the DiscordIntegrator plugin isn't working. If it's the latter, please contact an administrator.
By clicking "Connect", you agree to abide by the server rules.
See our chat policy
here
.

Recent Releases
The Sims 4: StrangerVille
February 26, 2019
---

The Sims 4: Get Famous
November 16, 2018
---

The Sims 4: Seasons
June 22, 2018

Most recent updates

Update 78
- February 21, 2019
● 1.50.67.1020
(Windows)
● 1.50.67.1220
(macOS)
---

Update 77
- February 5, 2019
● 1.49.65.1020
(Windows)
● 1.49.65.1220
(macOS)
---

Update 76
- December 20, 2018
● 1.48.94.1020
(Windows)
● 1.48.94.1220
(macOS)
---
See all The Sims 4 PC version updates

Monthly Question
Let us know how you would answer this question:
Using up to five traditions, what would be the best holiday you could create in The Sims 4: Seasons?
Visit the Monthly Question blog to read more about the question, or go here to weigh in!
---

Featured Media
---
Vote for or Nominate Next Month's Media
More featured media