Featured Article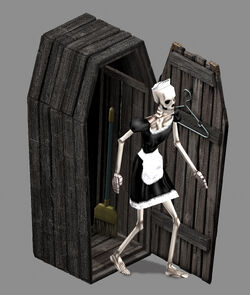 Bonehilda is an NPC that was introduced in The Sims: Makin' Magic, and later returned in The Sims 3: Supernatural and The Sims 4: Paranormal Stuff. She can be summoned from either a special upright coffin[TS:MM][TS3:SN] or by performing a seance[TS4:PS].
She mainly functions as a maid, with the ability to clean a Sim's house free of charge. However, depending on the game, she can also repair broken appliances, do laundry, tend to a garden, socialize, prepare meals, and care for children. As a walking skeleton, any human maids who see her while they are working may freak out and quit their job, and house guests will generally be tense in her presence. In haunted houses[TS4:PS], she is able to protect the residents by fighting off a vengeful spirit known as Temperance.
Bonehilda will occasionally grab a drink from a nearby bar, sink or refrigerator when she has nothing else to do, which will humorously flow right through her and leave a puddle on the floor. She also seems to be a fan of the Grim Reaper, and might stop to ask him for an autograph if he shows up[TS:MM].
Removing her skeletal appearance using cheats or mods results in a Sim that resembles the Grim Reaper[TS3:SN], or a light-skinned woman with long red hair and green eyes[TS4:PS].
Recently featured: Baby · The Sims 4: Seasons · Precipitation
---
Vote for the next Featured Article · Past featured articles

Community News
---
More community news →
The Sims Wiki Community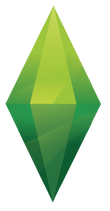 The Sims Wiki is maintained and grown by a dedicated community of editors. The
Community Portal
has been set up to connect users, give editing help to new editors, and develop a strong community for the wiki. There are many great ways to become a part of the wiki community.
The Forums are where the wiki discusses broad changes to articles, wiki policies and practices, and game-related topics. There is also a help forum for wiki or game help, and forums for off-topic chatting, game theories, and more!
We have a large and growing fanon namespace, where many authors create great fanon and fan fiction content. All registered users are allowed to create fanon articles!
We have many types of Featured Content, including featured article, featured media, and more! Any reader or editor can nominate new content to be featured, vote on other nominees, and help decide what content is featured on the Main Page.
Several wiki users write blogs about The Sims and The Sims Wiki. We have many opinion blogs, The Sims news blogs, and other various community blogs. Any user can comment on blogs, and any registered user can write blog posts!
---
We hope you'll take some time to see all that the TSW community has to offer, and
join us
as we work to build a comprehensive
The Sims
encyclopedia!

Latest Packs
The Sims 4: Cottage Living
July 22, 2021
---
The Sims 4: Dream Home Decorator
June 1, 2021
---

The Sims 4: Paranormal Stuff
January 26, 2021
---
Latest Kits
The Sims 4: Courtyard Oasis Kit
May 18, 2021
---

The Sims 4: Country Kitchen Kit
March 2, 2021
---

The Sims 4: Throwback Fit Kit
March 2, 2021
---

Most Recent Updates

Update 113
- May 27, 2021
● 1.75.125.1030
(Windows)
● 1.75.125.1230
(macOS)
● 1.42
(console)
---

Update 112
- May 13, 2021
● 1.74.59.1030
(Windows)
● 1.74.59.1230
(macOS)
● 1.41
(console)
---

Update 111
- April 28, 2021
● 1.73.57.1030
(Windows)
● 1.73.57.1230
(macOS)
● -
(console)
---
See all The Sims 4 updates

Featured Media
---
Vote for or Nominate Next Month's Media
More featured media
If you see this, JavaScript might be disabled in your browser or the DiscordIntegrator plugin isn't working. If it's the latter, please contact an administrator.
By clicking "Connect", you agree to abide by the server rules.
Community content is available under
CC-BY-SA
unless otherwise noted.