Featured Article
The Sims 2: Open for Business, or OFB, is the third expansion pack for The Sims 2, released on March 2, 2006 in the US, and on March 3, 2006 in Europe. The Mac version was released on September 4, 2006. It allows Sims to run a home or community lot based business.
The main change to the core game introduced by Open for Business is a new neighborhood type—the "Shopping District", the default one being named Bluewater Village. A number of Sims live there, such as a toymaking family, a woman who owns a home-based flower shop, a family that owns a furniture shop, a family bakery, and a rich tycoon who owns a nightclub and an electronics shop.
Open for Business also adds new functionality to a Sim's productivity around the house. Sims are able to craft new items, including toys, flowers, and robots. Additional items include those aimed specifically at enhancing the business setting like an old-style cash register, beauty salon chairs and child-oriented toys. Servos are reintroduced as fully playable household robots that can perform basic tasks and function like a Sim in regards to social interactions.
There are new objects in Open for Business. Furniture styles and the build-mode selection have been expanded. The biggest difference, however, is the addition of business-oriented items such as cash-registers, shelves, elevators, and crafting centers that Sims can use to create things to sell.
Recently featured: Celebrity status · The Sims 4: Cats & Dogs · Isla Paradiso
---
Vote for the next Featured Article · Past featured articles

Community News
---
More community news →
The Sims Wiki Community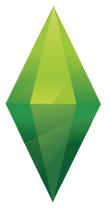 The Sims Wiki is maintained and grown by a dedicated community of editors. The
Community Portal
has been set up to connect users, give editing help to new editors, and develop a strong community for the wiki. There are many great ways to become a part of the wiki community.
The Forums are where the wiki discusses broad changes to articles, wiki policies and practices, and game-related topics. There is also a help forum for wiki or game help, and forums for off-topic chatting, game theories, and more!
We have a large and growing fanon namespace, where many authors create great fanon and fan fiction content. All registered users are allowed to create fanon articles!
We have many types of Featured Content, including featured article, featured media, and more! Any reader or editor can nominate new content to be featured, vote on other nominees, and help decide what content is featured on the Main Page.
Several wiki users write blogs about The Sims and The Sims Wiki. We have many opinion blogs, The Sims news blogs, and other various community blogs. Any user can comment on blogs, and any registered user can write blog posts!
---
We hope you'll take some time to see all that the TSW community has to offer, and join us as we work to build a comprehensive The Sims encyclopedia!
Twitter If you see this, JavaScript might be disabled in your browser or the DiscordIntegrator plugin isn't working. If it's the latter, please contact an administrator.
By clicking "Connect", you agree to abide by the server rules.
See our chat policy
here
.

Recent Releases

The Sims 4: Get Famous
November 16, 2018
---

The Sims 4: Seasons
June 22, 2018
---

The Sims 4: My First Pet Stuff
March 13, 2018

Most recent updates

Update 76
- December 20, 2018
● 1.48.94.1020
(Windows)
● 1.48.94.1220
(macOS)
---

Update 75
- December 18, 2018
● 1.48.90.1020
(Windows)
● 1.48.90.1220
(macOS)
---

Update 74
- November 20, 2018
● 1.47.51.1020
(Windows)
● 1.47.51.1220
(macOS)
---
See all The Sims 4 PC version updates

Monthly Question
Let us know how you would answer this question:
Using up to five traditions, what would be the best holiday you could create in The Sims 4: Seasons?
Visit the Monthly Question blog to read more about the question, or go here to weigh in!
---

Featured Media
---
Vote for or Nominate Next Month's Media
More featured media