Featured Article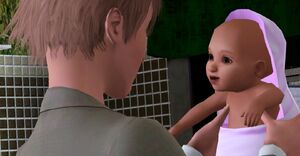 Baby is the first life stage in The Sims, The Sims 2, The Sims 3, and The Sims 4 (excluding pregnancy, in the case of the latter games). It is also present in The Sims Stories series, and The Sims Medieval, which are spin-offs of The Sims 2 and The Sims 3, respectively, and in The Sims FreePlay. There are no pre-made babies in The Sims series, although some pre-made Sims start out pregnant. Babies cannot be made in Create a Sim.
In The Sims, in order to have babies two Sims of opposite genders must interact romantically either by kissing or "playing in bed"[TS:LL] and then hope for the random chance of a dialogue asking "Should we have a baby?", to which the player can answer "Yes" or "No". In The Sims 2 and onward, Sims can have babies by doing the "Try for Baby" interaction on a double bed or in any other form of WooHoo location. Only female Sims can become pregnant through the "Try for Baby" interaction. Once a Sim has been pregnant for three days, they will give birth to one or more newborn babies. Babies can also be adopted.
Babies usually require basic forms of care from teens and older such as changing diapers, bottle feeding (The Sims 4 also adds the ability for female Sims to breastfeed) and good amounts of socialization with other family members. If a baby is not tended by any Sims in the household, a social worker will usually come to take the baby away. Babies grow into toddlers in The Sims 2, The Sims Stories, The Sims 3, The Sims 4 and The Sims FreePlay, while they grow into children in The Sims and The Sims Medieval.
Recently featured: The Sims 4: Seasons · Precipitation · Juliette Capp
---
Vote for the next Featured Article · Past featured articles

Community News
---
More community news →
The Sims Wiki Community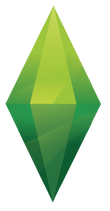 The Sims Wiki is maintained and grown by a dedicated community of editors. The
Community Portal
has been set up to connect users, give editing help to new editors, and develop a strong community for the wiki. There are many great ways to become a part of the wiki community.
The Forums are where the wiki discusses broad changes to articles, wiki policies and practices, and game-related topics. There is also a help forum for wiki or game help, and forums for off-topic chatting, game theories, and more!
We have a large and growing fanon namespace, where many authors create great fanon and fan fiction content. All registered users are allowed to create fanon articles!
We have many types of Featured Content, including featured article, featured media, and more! Any reader or editor can nominate new content to be featured, vote on other nominees, and help decide what content is featured on the Main Page.
Several wiki users write blogs about The Sims and The Sims Wiki. We have many opinion blogs, The Sims news blogs, and other various community blogs. Any user can comment on blogs, and any registered user can write blog posts!
---
We hope you'll take some time to see all that the TSW community has to offer, and
join us
as we work to build a comprehensive
The Sims
encyclopedia!

Recent Releases

The Sims 4: Paranormal Stuff
January 26, 2021
---
The Sims 4: Snowy Escape
November 13, 2020
---
The Sims 4: Journey to Batuu
September 8, 2020
---

Most recent updates

Update 108
- February 25, 2021
● 1.71.86.1020
(Windows)
● 1.71.86.1220
(macOS)
---

Update 107
- January 21, 2021
● 1.70.84.1020
(Windows)
● 1.70.84.1220
(macOS)
---

Update 106
- December 14, 2020
● 1.69.59.1020
(Windows)
● 1.69.59.1220
(macOS)
---
See all The Sims 4 PC version updates

Poll
---

Featured Media
---
Vote for or Nominate Next Month's Media
More featured media
Twitter If you see this, JavaScript might be disabled in your browser or the DiscordIntegrator plugin isn't working. If it's the latter, please contact an administrator.
By clicking "Connect", you agree to abide by the server rules.
Community content is available under
CC-BY-SA
unless otherwise noted.