Featured Article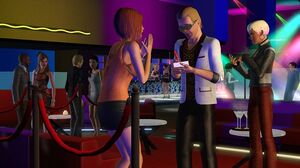 Celebrity status is a feature in The Sims 3: Late Night that allows Sims to become renowned celebrities around the world they live in. Celebrity status ranges from one to five stars, and the number of stars a Sim has is visible when the cursor is pointed at a celebrity Sim. Celebrities will not accept most social interactions from ordinary Sims at first, and they must be greeted and impressed before they will talk. In addition, Sims cannot simply visit a celebrity's home or penthouse, but must first ring them up on the callbox asking for permission to enter; celebrities that either don't know or dislike the visiting Sims may refuse them entry.
Sims can gain celebrity points in a variety of ways. They may gain celebrity points by socializing with and impressing existing celebrities. Reaching a high level in certain careers—particularly the Film career—will guarantee Sims celebrity status. More rarely, Sims can get celebrity points from opportunities. Celebrity points are permanent and cannot be removed without the use of cheats.
Being a celebrity provides Sims with many potential perks, such as access to the VIP areas in many bars, clubs, and lounges; discounts at retail stores and restaurants; freebies and other exclusive objects; and admiration from passersby when out and about. However, celebrities will also be followed by paparazzi, who may expose any embarrassing or disgraceful acts that they spot the celebrity being engaged in. Celebrities who get publicly disgraced will get a negative moodlet that lasts for three days and will temporarily revoke some of their perks.
Recently featured: The Sims 4: Cats & Dogs · Isla Paradiso · Restaurant
---
Vote for the next Featured Article · Past featured articles

Community News
---
More community news →
The Sims Wiki Community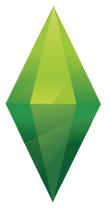 The Sims Wiki is maintained and grown by a dedicated community of editors. The
Community Portal
has been set up to connect users, give editing help to new editors, and develop a strong community for the wiki. There are many great ways to become a part of the wiki community.
The Forums are where the wiki discusses broad changes to articles, wiki policies and practices, and game-related topics. There is also a help forum for wiki or game help, and forums for off-topic chatting, game theories, and more!
We have a large and growing fanon namespace, where many authors create great fanon and fan fiction content. All registered users are allowed to create fanon articles!
We have many types of Featured Content, including featured article, featured media, and more! Any reader or editor can nominate new content to be featured, vote on other nominees, and help decide what content is featured on the Main Page.
Several wiki users write blogs about The Sims and The Sims Wiki. We have many opinion blogs, The Sims news blogs, and other various community blogs. Any user can comment on blogs, and any registered user can write blog posts!
---
We hope you'll take some time to see all that the TSW community has to offer, and join us as we work to build a comprehensive The Sims encyclopedia!
Twitter If you see this, JavaScript might be disabled in your browser or the DiscordIntegrator plugin isn't working. If it's the latter, please contact an administrator.
By clicking "Connect", you agree to abide by the server rules.
See our chat policy
here
.

Recent Releases

The Sims 4: Get Famous
November 16, 2018
---

The Sims 4: Seasons
June 22, 2018
---

The Sims 4: My First Pet Stuff
March 13, 2018

Most recent updates

Update 75
- December 18, 2018
● 1.48.90.1020
(Windows)
● 1.48.90.1220
(macOS)
---

Update 74
- November 20, 2018
● 1.47.51.1020
(Windows)
● 1.47.51.1220
(macOS)
---

Update 73
- November 13, 2018
● 1.47.49.1020
(Windows)
● 1.47.49.1220
(macOS)
---
See all The Sims 4 PC version updates

Monthly Question
Let us know how you would answer this question:
Using up to five traditions, what would be the best holiday you could create in The Sims 4: Seasons?
Visit the Monthly Question blog to read more about the question, or go here to weigh in!
---

Featured Media
---
Vote for or Nominate Next Month's Media
More featured media