'The Sims 4: Outdoor Retreat' - Official Trailer
Play Sound
Please do not use the above video for in-game information!
The above video was added by
FANDOM
as part of their
Featured Video
program without input from The Sims Wiki community. As such, its content may not accurately represent the subject of the article below.
---
Although the video may not appear for registered users, the video is still visible for users that are not logged in.
The Sims 4: Outdoor Retreat
Venture into the deep woods, take your Sims camping, and discover new herbs, species of fish, creepy insects, and more.
Development
Developer(s)
Maxis, The Sims Studio
Publisher(s)
Electronic Arts
Series
The Sims
Release date(s)
January 13, 2015
December 4, 2018 (console)
Technical information
Platform(s)
Windows, macOS, PlayStation 4, PlayStation 5, Xbox One, Xbox Series X/S
Mode(s)
Single-player
Media
Digital only
System requirements
Minimum system requirements on TheSims.com
Game features
Genres
Life simulation
Themes
Vacation, Outdoors and Camping
Worlds
Granite Falls

The Sims 4: Outdoor Retreat is the first game pack for The Sims 4, and was released on January 13, 2015. It includes a new destination, many new objects, new outfits and new interactions. There is currently no physical release of the game pack, and Origin is required to install it, same with the base game. The console version was released on December 4, 2018.
Similar to The Sims: Vacation, The Sims 2: Bon Voyage and The Sims 3: World Adventures, Sims can go on a vacation. However, it focuses more on camping, similar to vacationing in Vacation Island's Forest area in Vacation and Three Lakes in Bon Voyage.[1]
Official description
[
]
Explore the Outdoors!
Venture into the deep woods to discover new surprises, including dangerous and wondrous herbs, new species of fish, creepy insects and…bears? Hang out by the campfire before trying to find the hermit rumoured to live in the deepest parts of the forest.
KEY FEATURES
Wander into an All-New Destination – Your Sims can now make an escape from their everyday lives into the pine-filled air of Granite Falls. Let's just hope that your Sims aren't squeamish about insects.
Set Up The Perfect Camp – No camping trip is complete without the proper supplies. Be sure to purchase your Sims a tent and outfit them in new hiking gear.
Enjoy Unique Outdoor Activities – Lay back for a night of stargazing and let your Sims' imagination run wild! Join a game of horseshoes to unwind and see what adventure awaits within the bramble patch.
Gather around the Campfire – Treat your Sims to some roasted marshmallows and tell fireside stories of adventure, wonder and fright for the whole gang.
Create Exotic Potions as an Herbalist – Build your Sim's herbalism skill to create a variety of useful potions, from insect repellent to a concoction that can help soothe a tense Sim. This new skill will be useful to help Sims identify which wild plants are edible or poisonous.
New features
[
]
New gameplay objects
[
]
Outdoor variants of beds, chairs and showers
New gameplay mechanics
[
]
Outdoor Retreat introduces a new world, Granite Falls, which is only accessible while on vacation. It consists of two neighborhoods which feature a national park in one, and 5 lots for rent (4 houses and a campground) in the other. Sims can go vacationing in this world and can do so via smartphone under the travel section. A vacation can last for up to 7 Sim-days, however, they can be extended through a Sim's smartphone. These days count against Sim's vacation days if they are employed, so job performance will lower if employed Sims vacation too long with no vacation days available, but only on days when they have work.
Sims can now "Stargaze" and "Cloudgaze", which can make them inspired. Sims can also take part in group activities with other Sims such as telling a group story, or stargazing/cloudgazing in a group.
A new trait, aspiration and skill are introduced in Outdoor Retreat. Sims with the squeamish trait will become uncomfortable at the sight of insects, vomiting, violence, death and anything dirty. Sims cannot be squeamish and loves outdoors. The aspiration (a nature one), is called Outdoor Enthusiast. These Sims "want to experience everything nature has to offer." Sims can learn the herbalism skill, and with it they can identify plants, insects and even make remedies, such as an insect repellent.
Sims can now host a new party: Weenie Roast. Getting a gold award will unlock the Hand Carved Chess Table, and getting a silver one will unlock the Let's Go Fishing Chair. One Sim will be the "Grill Master," as well as 1 host and at least 2 guests.
New food can be cooked through the use of a fire pit. These include marshmallows, hot dogs and even bugs.
Over 60 outdoorsy items are introduced in Outdoor Retreat. Some items are designed to be used when camping (such as portable beds, tents and foodstuffs), and can be purchased from the ranger's station in the national park or in build mode; the other pieces of furniture can also be purchased through build mode.
New clothes are also available, including a bear suit. When a Sim wears a bear suit, they gain access to some new social interactions, such as a mean social interaction called "Roar". The roared-at Sim will get a tense +2 moodlet "Scary Bear!".
Before Patch 12, the main menu would show clips of Sims using the various items from Outdoor Retreat. This is because Patch 12 updated the main menu and replaced the clips with a static picture with animated confetti, as well as the "Play" and "Create a Sim" buttons moved to the middle-right of the screen.
Styled rooms
[
]
The Sims 4: Outdoor Retreat features six new styled rooms, which can be purchased in build mode.
Natural Washroom
[
]
Price: §3,498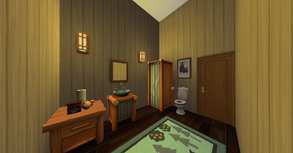 The Great Outdoors
[
]
Price: §3,776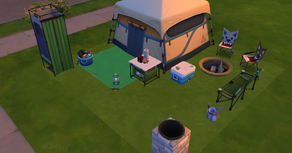 Rustic Sensibility
[
]
Price: §4,415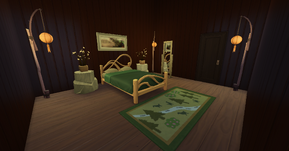 Grunge Retreat
[
]
Price: §5,475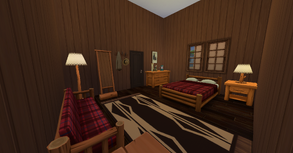 Fab Plaid Commons
[
]
Price: §5,735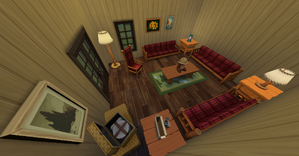 Lumber Living
[
]
Price: §7,265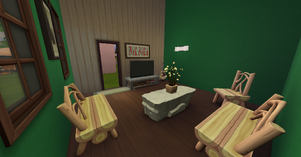 Price and pricing controversy
[
]
Outdoor Retreat was priced at launch at $19.99 USD and £14.99 GBP, the same price as a stuff pack for The Sims 3.[2]
Controversy erupted when the Australian and New Zealand versions of Outdoor Retreat were priced at launch at $40AUD and $50NZD, respectively. EA called the pricing mishap an "accident" and dropped the price of the Game Pack to $39.99 in New Zealand and $29.99 in Australia, and provided refunds for those who purchased it prior to the price drop.
Gallery
[
]
Music
[
]
Alternative
[
]
Golden Youth - Where's Your Heart Gone
Oh Honey - Get it Right
The Shoaks - Zolombray
Céleigh Chapman - Man Down
Ezra Vine - Celeste
Gabrielle Aplin - Please Don't Say You Love Me
Trivia
[
]
Outdoor Retreat used to be called Great Outdoors at some point during development.[citation needed]
It is the first content pack of The Sims 4 to include a brand new world.
It is also the first time that a vacation destination was included via game packs, rather than expansion packs like previous games.
References
[
]