The Crumbling Isle

The Crumbling Isle is a bit of a misnomer for this part of town. There's nothing here but glorious high-end real estate as far as the eye can see.
Name
The Crumbling Isle
World
Windenburg
Game
 The Sims 4: Get Together
The Crumbling Isle is an exclusive neighborhood located in Windenburg. It is a private island next to The Bluffs.
The homes are spread across the island, surrounded by cliffs and ancient ruin parts. There are no roads in this neighborhood. It is also home to the richest family in Windenburg, the Villareal family.
Lots
[
]
The Lighthouse
[
]
The Lighthouse is the home to the Bjergsen family. It features three bedrooms, two bathrooms, a kitchen, living/dining area, a pool and fenced-off backyard with monkey bars and a playset.
Mid-NoWhere
[
]
Mid-NoWhere is the only empty lot in The Island.
Pier Palace
[
]
Pier Palace is an uninhabited lot in The Island. It has two floors and contains 3 bedrooms, 2 bathrooms and a rooftop terrace. It has very little outdoor space.
Dock Den
[
]
Dock Den is the residence of the Bro household. The house contains two bedrooms, one bathroom, a kitchen, a living area and an outdoor patio.
Von-Windenburg Estate
[
]
Von-Windenburg Estate is home to the Villareal family and is the most expensive and biggest lot in the neighborhood. It contains six bedrooms, four bathrooms, a kitchen, some living space and a very big outdoor area with a pool.
Neighborhood amenities
[
]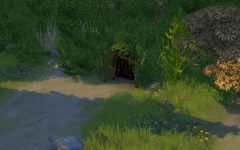 The Island is a very private place, that does not have many amenities. There are a bunch of beaches scattered around with bonfires and fishing spots.
The entrance to The Bluffs is located in this neighborhood. It is a shrub hole right next to the Von-Windenburg Estate, and does not require any special adventures to enter it.