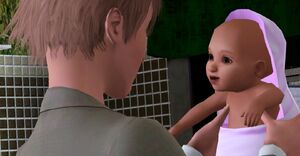 Baby is the first life stage in The Sims, The Sims 2, The Sims 3, and The Sims 4 (excluding pregnancy, in the case of the latter games). It is also present in The Sims Stories series, and The Sims Medieval, which are spin-offs of The Sims 2 and The Sims 3, respectively, and in The Sims FreePlay. There are no pre-made babies in The Sims series, although some pre-made Sims start out pregnant. Babies cannot be made in Create a Sim.
In The Sims, in order to have babies two Sims of opposite genders must interact romantically either by kissing or "playing in bed"[TS:LL] and then hope for the random chance of a dialogue asking "Should we have a baby?", to which the player can answer "Yes" or "No". In The Sims 2 and onward, Sims can have babies by doing the "Try for Baby" interaction on a double bed or in any other form of WooHoo location. Only female Sims can become pregnant through the "Try for Baby" interaction. Once a Sim has been pregnant for three days, they will give birth to one or more newborn babies. Babies can also be adopted.
Babies usually require basic forms of care from teens and older such as changing diapers, bottle feeding (The Sims 4 also adds the ability for female Sims to breastfeed) and good amounts of socialization with other family members. If a baby is not tended by any Sims in the household, a social worker will usually come to take the baby away. Babies grow into toddlers in The Sims 2, The Sims Stories, The Sims 3, The Sims 4 and The Sims FreePlay, while they grow into children in The Sims and The Sims Medieval.
Recently featured: The Sims 4: Seasons · Precipitation · Juliette Capp
Template documentation
(for the above template, sometimes hidden or invisible)
Community content is available under
CC-BY-SA
unless otherwise noted.