This is a page for discussing improvements to Pleasantview
Talk pages are used to discuss changes or improvements to the article or page only. Please use the game discussions forum for game discussions, help desk for game questions, or the off-topic forum for general conversations. Real-time conversation about
The Sims
(as well as off-topic discussions) can also be found on The Sims Wiki's IRC Channel or Discord server.
---
Hey everyone,
I am trying to recreate the old Pleasantview from the Sims 1 on the Sims 2. I would really apreciate it if someone could leave me a link or two of some websites that tell you how to do this without having to download it because my laptop does not have acess to the internet and that is where my game is installed on ( I am writing this from my home computer ). I know that there is some websites listed in the Pleaseantview aticle but I am unsatisfied with them. Even if you could post screenshots of all the homes and neighborhoods at a few angles that would would be nice. Thanks to everyone who helps me, and I know I am asking for a lot but I am really haveing a lot of trouble finding pics and guides.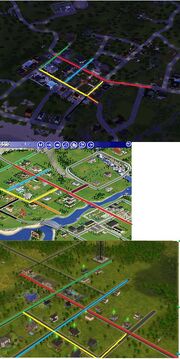 Pleasantview
Edit
I would love to help. How shall I help you? --Bayoubash 16:47, 8 March 2009 (UTC)
Recreating the Pleasantview?
Edit
Why in the last section, it's said "TS2 players try to recreate the original TS1 Pleasantview in TS2"? Isn't it TS2 Pleasantview in TS3? Nikel Talk 12:47, January 9, 2012 (UTC)
I think that's based on the presumption that Neighborhood 1 plus Old Town in TS1 is Pleasantview in TS2. Dharden (talk) 13:13, January 9, 2012 (UTC)
Yes, that's true. Neighborhood 1, Pleasantview and Sunset Valley are actually the same town. (Families from TS1 live in Pleasantview (TS2) and later in Sunset Valley (TS3))

♦♦♦OnlyPlayTheSimsGames♦♦♦

14:46, January 9, 2012 (UTC)
Hmm... that makes sense. Although that means it has nothing to do with Pleasantview then. Nikel Talk 12:47, January 10, 2012 (UTC)
Except for the last link to thesims3.com, which refers to re-creating Pleasantview in The Sims 3, that is so. The link to Sim Estates 2 is dead, and the link to Elfstone Designs (actually Elstone Designs) does say where the content has been moved. It says that lots have been moved to a user page at the TS2 site. Given the current issues there, it cannot be assumed they are accessible, of that they ever will be again. Dharden (talk) 13:32, January 10, 2012 (UTC)
Is it correct that every player-created neighborhood in the sims 2 has the townies from pleasantview? Dutch-tom (talk)
Yup, even tho they say that there are no townies or NPC each time you make a new neighboorhood. If you want a completely new set of townies, just make a big deleteallcharacter & use boolprop cheats to spawn new batches of townies and NPC's. This way you can have alien townies. And also townies with EP pack clothing and hair. If you want a name theme (think like Veronaville everyone is name after a shakespearean character, only that now the townies also have names from your theme) you change them with SimPE. This is how TS2 Queen Bee challenges are made. Kaiko Mikkusu (talk) 19:47, May 21, 2014 (UTC)
Well, if you really don't want Pleasantview townies in a new neighborhood, I really don't suggest using deleteAllCharacters cheat as it will corrupt the neighborhood you are in instead. Read this game guide to see how to prevent premade townies from being generated.

Nikel

Talk – Vote! 07:20, May 24, 2014 (UTC)
When I played Pleasantview, everything went glitchy. Pleasantview went all fuzzy and all the Sims had weird faces. I fixed it by uninstalling and reinstalling the game. 92.238.26.229 (talk) 19:22, July 20, 2014 (UTC)
Community content is available under
CC-BY-SA
unless otherwise noted.