Confirmation on Morrigan's Stargazer being Morrigan's.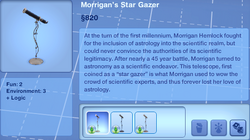 With that photo as evidence and the description of it and the fact shes a vampire forgive me if im wrong but is it trying to tell us she's over a thousand years old? --ParanormalJ (talk) 05:22, December 17, 2012 (UTC)
When my one of my sims met Morrigan she formed a band with her and Stella Striker, then Morrigan died of thirst and they named the band Hemlock's Death after her. —Preceding unsigned comment added by Carman39 (talk • contribs) (UTC) - Please sign your comments with ~~~~
Yup, plus between TS3: Late Night, and TS3: Outdoor Living Stuff, it's apparently been 45 years. Or something. Or maybe the descriptions of various objects (expecially those referencing sims already in the game such as Bella Goth- quite a few other SP objects reference sims from previous expansions) are not suppose to be canon. Or maybe it's suppose to be a different Morrigan Hemlock. Wogan ended up marrying someone with the same first name as his great-great-great-great-great-great-aunt. It happens sometimes. 78.15.45.54 (talk) 19:03, May 16, 2014 (UTC)
Community content is available under
CC-BY-SA
unless otherwise noted.