Sparks family

Description
Widowed when his daughter was just a baby, Walker has struggled to balance his career and raise his child. His want to provide Piper with financial security has turned him into a workaholic and an absent father. Too late Walker sees the damage that has been done... can he mend his relationship with his daughter before he loses her forever?
Name
Sparks family
Members
Walker Sparks, Piper Sparks
Number of generations
2 generations
Family connections
Diwan family
Lot
95 Sonora Street
Funds
§12,000
Difficulty level
Other information
Game
The Sims 3 Store
Playability
Playable
World
Lucky Palms
The Sparks family is a premade family in Lucky Palms, a downloadable neighborhood from The Sims 3 Store. The household consists of a widower Walker and his daughter Piper. They reside at 95 Sonora Street, at a cozy residential area. Both of them have struggle in familial relationships. Walker has been widowed since Piper was a baby, and ever since, he has had difficulties balancing his career and raising her. The family bio mentions that Walker wants to provide financial security to her. They now have §12,000 in family funds.
Glorianna Sparks is a deceased Sim buried at the Sunwest Graveyard. It is unknown who she is, as she isn't mentioned in the bio or appear in the family tree, though it is likely that Glorianna is Piper's late mother.
Family tree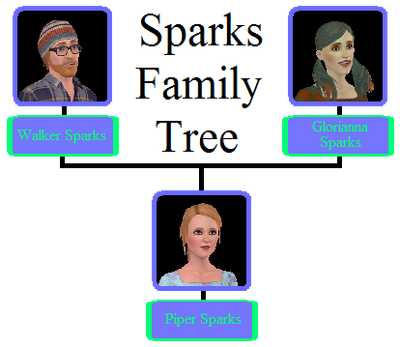 Members
Community content is available under
CC-BY-SA
unless otherwise noted.