Not to be confused with Camera.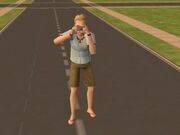 Take Snapshot is an interaction available with The Sims 2: Bon Voyage. Taking pictures is similar to a still life painting. A green box appears over the portion of the screen to be captured. The snapshot is saved in the story album.
Sims can order a single photo, an entire album online or over the telephone. The photos can be placed on the walls or on surfaces.
There are also new poses available to Sims via the pie menu, which are useful for posing in snapshots. The following poses are available:
Stand Still
Hands On Hips
Crossed Arms
Moose Ears
Flex
Peace
Sit Down
Wave
Ta Daa
Thumbs Up
Some poses will force the Sim to look straight ahead — others allow the Sim to turn their head to face the player.