Small pets are pets that live in aquariums or cages and can be taken out briefly for Sims to play with. They require less attention than cats, dogs, and horses[TS3:Pets], but have fewer interactions, and are not counted as household members.
The Sims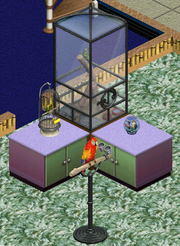 In The Sims, only one small pet was available, the fish in the Poseidon's Adventure Aquarium. Sims have to feed the fish and clean the tank to ensure they remain healthy.
In Livin' Large, the guinea pig was introduced. If the cage wasn't cleaned for a long time, and it bit a Sim, the Sim would become sick. The fastest and easiest way of curing this sickness is to buy the guinea pig painting and look at it.
Many more small pets were introduced with The Sims: Unleashed. Sims were able to go to Old Town and purchase a variety of small pets, including iguanas, turtles and small birds such as budgies and love birds. All of them require feeding and cleaning occasionally, but they don't need as much attention as cats and dogs. However, unlike cats and dogs, they can - and will - eventually die, no matter how carefully they are cared for. Parrots and Cockatoos can also be bought in Buy Mode, for §939 and §749, respectively. Sims can not only feed them crackers, but also talk to them, which boosts the selected Sim's Charisma.
Community content is available under
CC-BY-SA
unless otherwise noted.