watch 02:19
The Loop (Games)
Small pets are pets that live in aquariums or cages and can be taken out briefly for Sims to play with. They require less attention than cats, dogs, and horses[TS3:Pets], but have fewer interactions, and are not counted as household members.
The Sims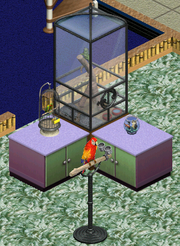 In The Sims, only one small pet was available, the fish in the Poseidon's Adventure Aquarium. Sims obviously have to feed the fish and clean the tank to ensure they remain healthy.
In Livin' Large, the guinea pig was introduced. If the cage wasn't cleaned for a long time, and it bit a Sim, the Sim would become sick. The fastest and easiest way of curing this sickness is to buy the guinea pig painting and look at it.
Many more small pets were introduced with The Sims: Unleashed. Sims were able to go to Old Town and purchase a variety of small pets, including iguanas, turtles and small birds such as budgies and love birds. All of them require feeding and cleaning occasionally, but they don't need as much attention as cats and dogs. However, unlike cats and dogs, they can - and will - eventually die, no matter how carefully they are cared for. Parrots and Cockatoos can also be bought in Buy Mode, for §939 and §749, respectively. Sims can not only feed them crackers, but also talk to them, which boosts the selected Sim's Charisma.
The Sims 2
In addition to dog and cat, Sims can keep small pets, which require less caring. Small pets cannot be controllable like cats and dogs. They are less interactive animals. They can only be kept if their respective cage is bought and stocked.
Fish is the first small pet Sims can keep. They can buy the Aquabox Five-Gallon Aquarium and stock it with fish. Sims must feed them and clean the tank regularly, or the fish will eventually die. The fish isn't very interactive like other kinds of pets, because the only thing to do with it is to watch the fish. Pets added another stylish fish tank, which is similar to the base game aquarium. Apartment Life added a huge decorative fish tank. It's very expensive and doesn't need to be fed.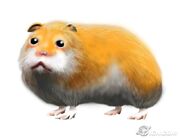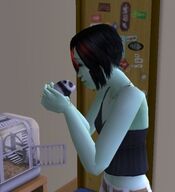 Womrat, parrot, and caged dog are the actual small pets that can be kept. Womrats and parrots came with The Sims 2: Pets while caged dog came with The Sims 2: Apartment Life. In order to keep them, Sims must buy their cage from the Buy mode. Womrat requires a womrat cage, parrot requires a bird cage, and caged dog requires a small dog pen. Moreover, Sims can name these small pets. Pets is not required to keep a caged dog, because it's an individual object from Apartment Life that has its own animation and texture, thus, not needing the elements in Pets.
Sims can stock these small pets in various fur and feather colors, though only one small pet can be kept in one cage. Sims must feed them and clean the cage regularly too, or they will die. Additionally, starving caged dog doesn't die, but will be taken away by Animal Control Officer instead. Sims can also play with and watch these small pets, and carry along the parrot or caged dog (similar to carrying a baby). Small pets can tell how hungry they are by checking the price of their food whenever they are about to be fed. If they are starving, these pets will have a hungry thought bubble above their head.
Sims will build Cleaning skill a little every time they clean the tank or cage. Also, Sims can teach the parrot to talk. Once they've learned to talk, Sims can talk to them to build Charisma skill. Sims will also build Nature enthusiasm[TS2:FT] whenever they clean the cage and talk to bird. Bird cages can be opened. An open bird cage will eventually let the parrot out and it will fly around the house. This will raise some fun for the Sims nearby. Sims cannot interact with the parrot while it's flying, though. Since small pets only needs cage to be bought in order to keep them, these are the only pets that can be kept in college lots by Young Adult, and in vacation home.
Skunk[TS2:P] and Penguin[TS2:S] who wander around the house can also be petted. When they are petted, they will linger longer before leaving. Skunk will be very likely to spray Sims when they try to pet it. Werewolf has a higher chance to successfully pet the skunk. Penguin, on the other hand, has no difficulties to be petted.
Also, Sims can keep collected butterflies and fireflies[TS2:S] in a jar. They will eventually die and the jar has to be cleaned. Maid and Butler won't clean it, though. Sims can release them before they die. Sims can also keep their collected beetles, butterflies, and spiders[TS2:FT] in their collection box. Sims can view the box the see which bugs they have collected so far.
The Sims 3
See also: Minor pet
In The Sims 3 many aquatic animals, including fish, frogs, snails, and crocodiles, and insects can be caught and placed in an aquarium or terrarium.
Animals in aquariums must be fed regularly but can essentially live forever.
In The Sims 3: Pets, small pets reappear as minor pets:
Birds: Blue Gold Macaw, Catalina Macaw, Cockatoo, Congo African Gray, Crow, Falcon, Spotted Sixam, Yellow Naped Amazon, Cardinal, Easter Bluebird, Gold finch, Lilac Breasted Roller, Nuthatch, Parakeet, Pigeon, Owl
Lizards: Anole Lizard, Ancient Dragon, Gecko, Chameleon, Pygmy Komodo Dragon, Agama Lizard, Texas Spiny Lizard, Iguana
Rodents: Chinchilla, Hedgehog, Squirrel, Rat, Shrew, Womrat, Chipmunk
Snakes: Yellow Python, Garter Snake, Emerald Tree Boa Snake, Malayan Krait Snake, Yellow Chondro Python, Scarlet King Snake, San Francisco Garter Snake, Iridescent Shieldtail Snake, Mini Python
Turtles: Barbour's Map Turtle, Spotted Turtle, Eastern Box Turtle, Indian Roofed Turtle, Red Eared Slider Turtle, Pygmy Tortoise, Spiny Turtle, Western Painted Turtle
Community content is available under
CC-BY-SA
unless otherwise noted.