"Jones family (The Sims 2)" redirects here. For other Jones families, see Jones family (disambiguation).
The Sim family lives in the Tutorial neighborhood. The family contains Jane and Joe Sim.
In this family even the wife's parents still have the same surname as the husband's. Like Betty's parents are Bill Sim and Bunny Sim, the same surname as Bob Sim's parents, Pop Sim and Dorothy Sim. The Same goes for Tutorial Jane Sim's ancestors who all have the surname Jones.
Most of the Sim family members are references to the Newbie and Simovitch families in some way, most notably Bob and Betty Sim which are similar in looks to Bob and Betty Newbie as they appeared in the original The Sims Tutorial House. Betty Sim's parents are similar in appearance to Vadim and Fatima Simovitch. Pop and Dorothy Sim resemble older versions of Robert and Mags Newbie as they appeared in The Sims 3's downloadable neighborhood, Riverview.
Family tree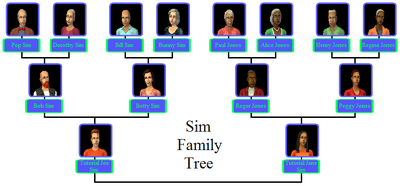 Members
Community content is available under
CC-BY-SA
unless otherwise noted.