SimCity Academy, introduced in The Sims 2, is a private school that children and teenagers can attend if they have a minimum grade of C. In general, it is simply referred to as a private school. Families are not charged for sending children and teens to private school, although preparing expensive meals and purchasing expensive furnishings are recommended to ensure a successful enrollment into private school.
Players have to have a Sim invite the Headmaster over for dinner, then schmooze, feed, and impress him in order to have their children or teens be accepted into private school. Being accepted into, or rejected from, private school gives a special memory to both the parents and children/teens. Getting a child into private school, or getting into private school as a teen, is a high-value want that Knowledge and Fortune Sims are likely to roll, though it is not unique to them.
Kids and teens in private school will change into a uniform before getting on the school bus.
Pros and cons of private school
[
edit
|
edit source
]
Pros
A day at private school takes less of a toll on needs.
Performance awards are skill points rather than small sums of money.
Teens who are in private school will start teen and adult careers at Level 2.
Cons
Homework is somewhat more stressful, which leads to a large fun drop if the Sim is left unattended for a long time.
Preparing for the headmaster can be stressful if the household is large or if the Sims begin to prepare their food late.
| Image | Memory Name | Type | Cause | Game Dialog/Description |
| --- | --- | --- | --- | --- |
| | Got into Private School | Positive | Getting into private school | That wise Headmaster must have seen your true potential! Now make sure it's worth the extra cost and get studying! |
| | Got Rejected from Private School | Negative | Failing to impress the headmaster to get into private school | Ah, it's all rigged anyway. Those snooty Headmasters don't know what they're missing. |
| | (Sim) Got into Private School | Positive | Relative gets into private school | It gives me a warm feeling to know my little one is getting a great education... Now I just have to pay for it! |
| | (Sim) Was Rejected from Private School | Negative | Relative is rejected from private school | The Headmaster didn't look too pleased. I sure hope we haven't hurt our child's future too much... |
Getting into private school
[
edit
|
edit source
]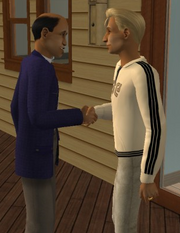 To gain entry into private school, there must be a child or teen Sim with a school grade of C or higher in the household. Once this has been achieved, players can click the "Invite Headmaster" interaction on a telephone or cell phone. Once called, the Headmaster will arrive at 5pm and, once he is greeted, a 6-hour scenario will begin.
Players will have the chance to impress the Headmaster in three key areas: a tour of the house, providing him with dinner, and schmoozing with him. To initiate the tour or dinner, click on the Headmaster and select Entertain... from the pie menu. To schmooze, select Schmooze... from the Headmaster's pie menu. Impressing him in those three areas will earn points which add up to an overall score. 90 points (out of a possible 135) is required to be accepted into private school.
As soon as the total score breaks the 90-point requirement, the Headmaster will leave, even if there's time remaining on the clock, and all eligible children and teens in the household will be allowed into private school. Sims who age up from the toddler to the child life stage after the Headmaster's visit or child Sims added to the household after the visit are not yet covered, and another visit will need to be scheduled once the toddler ages up (the household will need to do all preparations in order to meet the 90-point requirement again). The next weekday, the accepted Sim(s) will change into a uniform and then board the school bus as normal. If the time limit expires and the score has not been met, players can try again the next day.
Community content is available under
CC-BY-SA
unless otherwise noted.