The Shallow family is a wealthy family living in Riverview. This family consists of June and Tom Shallow, their daughter MaryKay, son Dallas and Tom's father, Kurt Shallow. Every member of this family has the Evil trait, which seems to be genetic. Their last name is likely related to this trait. They appear to be the complete opposite of the neighbouring Grisby family, who all have more positive traits but unattractive appearances.
Onomatology
Shallow: Measuring little from bottom to top or surface; lacking physical depth. - Lacking depth of intellect, emotion, or knowledge.
Tom: The Greek form of the Aramaic name תָּאוֹמָא (Ta'oma') which means "twin".
June: The month after May.
Dallas: Scottish place name meaning "meadow dwelling".
Kurt: From the German words kuoni "brave" and rad "counsel". Some kings and noble peoples also bore this name.
Family tree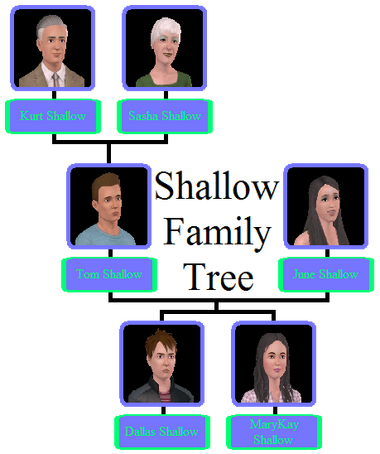 Members