Sekemoto family

Description
Yumi Sekemoto has recently moved in with her son, Leighton, to help him raise his toddler, Sam.
Name
Sekemoto family
Members
Yumi Sekemoto, Leighton Sekemoto, Sam Sekemoto
Number of generations
3 generations
Lot
24 Sim Lane
Funds
§2,550
Difficulty level
Other information
Game
The Sims 3
Playability
Playable
World
Sunset Valley
The Sekemoto family is a small family introduced in The Sims 3. Yumi Sekemoto moves in with her son Leighton so she can help him bring up his toddler, Sam. They have §2,550 Simoleons in household funds when first played. Depending on the gameplay, Yumi Sekemoto dies eventually, leaving Leighton and Sam to fend for themselves.
in Lunar Lakes, a world from The Sims 3 Store, descendants of the Sekemoto family can be found. The family consists of Gretel Sekemoto, a geologist; her astronomer husband Len; and their toddler son Kristofer.
Onomatology
Sekemoto: A possible reference to Sakamoto-San owner of the 5 star Diner in Japan. Sekimoto, spelled with an "i", is also a common Japanese last name.
Yumi Sekemoto: From the Japanese word for "archery bow", it can also come from "reason", "friend" or "archery bow" combined with "beautiful".
Leighton Sekemoto: (Yumi's son) Variant of "Layton", a surname which means "settlement with a leek garden".
Sam Sekemoto: (Yumi's grandson) Short for either "Samuel" or "Samson". Samuel means "name of God" or "God has heard", and Samson means "sun".
Family tree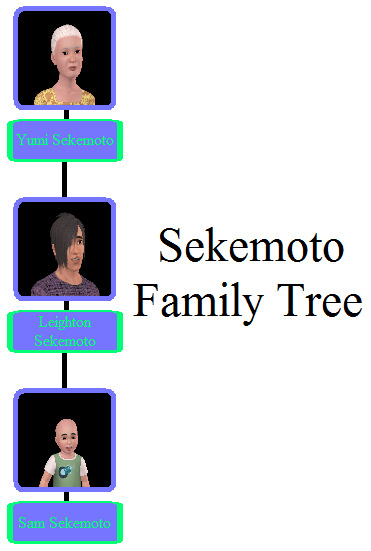 Members
Community content is available under
CC-BY-SA
unless otherwise noted.