Arcane: League of Legends - The Loop
Play Sound

Not to be confused with Scenario (The Sims 2).
Scenarios are a feature that was added to The Sims 4 in patch 120. They consist of themed challenges that players can select from the main menu. After selecting a scenario, its description, requirements, and potential outcomes will be shown; and the player will be given the option to start the scenario in an existing save or in a new save.
Completing a scenario
[
]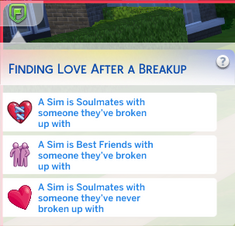 When a scenario is chosen, the player is taken to Create a Sim to make (or download) a household that fulfills the requirements, and then move them into a lot. A window will be present at the top left of the screen as a reminder of the scenario, but the player is otherwise not forced to complete it. Completing one of the outcomes rewards each Sim in the household with 5,000 satisfaction points, which can be spent in the rewards store.
List of scenarios
[
]
Icon and name
Themes

Making Money
Fortune
Description

Step 1: Move to a new place and start off without a single Simoleon in your bank account.
Step 2: ???
Step 3: Become a millionaire!

Household funds will be set to §0 after moving in to a lot.

Notes
Requirements
Potential outcomes

N/A

Have 1 million Simoleons (§1,000,000)

Icon and name
Themes

Finding Love After a Breakup
Romance
Description

A messy breakup is even messier for Sims who live together. Is there anything worth salvaging in this relationship or is it time to find new love?

Sims will start the scenario having recently broken up with each other.

Notes
Requirements
Potential outcomes

Sims must not be related to each other
2 Sims who are Young Adult or older

A Sim is Soulmates with someone they've broken up with
A Sim is Best Friends with someone they've broken up with
A Sim is Soulmates with someone they've never broken up with

Icon and name
Themes

Too Many Toddlers
Family, Skills
Description

Can an overwhelmed Sim figure out how to give a bunch of Toddlers all the attention and care they need to thrive?

Notes
Requirements
Potential outcomes

This scenario was only available from November 3, 2021 to November 17, 2021.

3 Toddler Sims
1 Sim who is Young Adult or older

Toddlers reach level 3 in 4 skills

Icon and name
Themes

Surviving the Holidays
Rivalry
Description

Two Sims who hate each other are stuck living together due to a convoluted backstory involving some gnomes and real estate scams, and both are too stubborn to move out. In the spirit of the season will they find a way to mend their differences, or at least find some way to make the situation more bearable to get through the holidays?

Sims will start the Scenario as enemies with grudges against each other.

Notes
Requirements
Potential outcomes

This scenario is currently unimplemented.

Sims must not be related to each other
2 Sims who are Young Adult or older

Sims are friends without any negative sentiments
Sims are romantically involved as Enemies with Benefits

Icon and name
Themes

Perfectly Well Rounded
Skills, Friendship, Aspirations
Description

Some Sims are extremely impressive: they're experts in many topics, they're well-liked by others, and they've followed their dreams unapologetically. It's not easy to be so well rounded, but it's a path worth pursuing.

Notes
Requirements
Potential outcomes

This scenario is only available from November 18, 2021 to December 1, 2021.

1 Sim who is Young Adult or older

Sim completes an Aspiration, has 5 friends, and is level 10 in 3 skills