Fire Emblem Warriors: Three Hopes - The Loop
Play Sound

Not to be confused with Scenario (The Sims 2).
Scenarios are a feature that was added to The Sims 4 in patch 120. They consist of themed challenges that players can select from the main menu. After selecting a scenario, its description, requirements, and potential outcomes will be shown; and the player will be given the option to start the scenario in an existing save or in a new save. In patch 125, scenarios were updated with difficulty tags (easy, intermediate, or hard) to indicate how difficult they would be to complete.
They are similar to challenge events, which were occasionally available in the game up to 2018. However, challenge events were always active and the player couldn't choose to only run them in certain saves.
Completing a scenario
[
]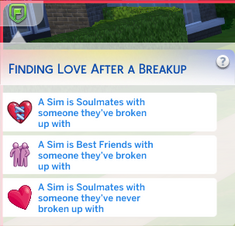 When a scenario is chosen, the player is taken to Create a Sim to make (or download) a household that fulfills the requirements, and then move them into a lot. However, some scenarios allow the player to use an existing household in the save. A window will be present at the top left of the screen as a reminder of the scenario, but the player is otherwise not forced to complete it. Completing one of the outcomes rewards each Sim in the household with either 5,000 satisfaction points (which can be spent in the rewards store), a potion, or a trait.
List of scenarios
[
]
Permanent scenarios
[
]
Icon and name
Difficulty
Themes

Engaged in Conflict
Intermediate
Romance, Weddings
Description

An engaged couple is rethinking their relationship after a huge fight about how to make grilled cheese. A total meltdown over something so trivial might indicate deeper problems. Will cheesy romantic gestures and heartfelt conversations melt the tension before their wedding day?

Sims will start out as engaged but recently having had an argument, with high romance but not-so-great friendship.

Notes
Requirements
Potential outcomes

2 Sims who are Young Adult or older
Sims must not be related to each other

Sims get married and have no negative Sentiments between them
Sims get married but have unresolved negative Sentiments between them
Sims break up before the wedding
Sims break up during the wedding

Icon and name
Difficulty
Themes

Extraterrestrial Researcher
Intermediate
Collections, Skills
Description

A Sim obsessed with outer space knows we cannot be alone in the universe, and this Sim is determined to discover all there is to know about extraterrestrial creatures. Unfortunately, getting into space is not so easy. You need a lot of spare time, and possibly money, to go looking for these mysterious critters.

The first step: build a DIY rocket that can take the Sim to space and back home again safely (more or less)... how hard can it be?

Notes
Requirements
Potential outcomes

1 Sim who is Young Adult or older

Bring back 5 unique alien critters from voyages into space

Icon and name
Difficulty
Themes

Finding Love After a Breakup
Intermediate
Romance
Description

A messy breakup is even messier for Sims who live together. Is there anything worth salvaging in this relationship or is it time to find new love?

Sims will start the scenario having recently broken up with each other.

Notes
Requirements
Potential outcomes

Sims must not be related to each other
2 Sims who are Young Adult or older

A Sim is Soulmates with someone they've broken up with
A Sim is Best Friends with someone they've broken up with
A Sim is Soulmates with someone they've never broken up with

Icon and name
Difficulty
Themes

Honeymooners
Intermediate
Romance, Weddings, Vacaction
Description

Two Sims are freelance artists, recently engaged, and recently moved to a new home far from family and friends. So, they're on their own with planning a small wedding and, on top of that, figuring out where to go for their honeymoon. Will they make some new friends to invite to the wedding, or keep the focus just on each other? And where will they go to celebrate the start of their new life together, just the two of them?

Notes
Requirements
Potential outcomes

2 Sims who are Young Adult or older
Sims must not be related to each other

Married Sims WooHoo while on vacation

Icon and name
Difficulty
Themes

In The Moodlet
Easy
Emotions, Friendship
Description

Working in Retail can be so stressful! Some Sims just have the worst luck and get all the rude customers. Can this Sim leave their problems at work and unwind at home?

Notes
Requirements
Potential outcomes

1 Sim who is Young Adult or older

Control your Sim's emotions and complete all the goals!

Icon and name
Difficulty
Themes

Making Money
Easy
Fortune
Description

Step 1: Move to a new place and start off without a single Simoleon in your bank account.
Step 2: ???
Step 3: Become a millionaire!

Household funds will be set to §0 after moving in to a lot.

Notes
Requirements
Potential outcomes

N/A

Have 1 million Simoleons (§1,000,000)

Icon and name
Difficulty
Themes

No Skills, No Problem
Intermediate
Fortune
Description

A Sim cannot seem to ever get more skillful at... well, anything! It's made everything more difficult, from interpersonal relationships to holding a steady job, and, as a result, they've had to become quite resourceful, figuring out ways to work harder or smarter than everyone else. Can this unskilled Sim figure out how to hack life and earn some sweet Simoleons?

Household funds will be set to §0 after moving in to a lot.

Notes
Requirements
Potential outcomes

1 Sim who is Young Adult or older

Icon and name
Difficulty
Themes

Plant-a-Sim
Easy
Skills, Collections
Description

A Sim has recently acquired the mysterious Forbidden Fruit of the PlantSim. What harm could come from taking a bite or two? It's not like you're going to magically turn green, sprout leaves and begin your life as a PlantSim!?

Can the Sim reach their best Plant-self before time and the fruits run out? Or, will they realize that the plain old Sim life is their true calling?

Notes
Requirements
Potential outcomes

1 Sim who is Young Adult or older

Complete all goals while living the PlantSim life!

Icon and name
Difficulty
Themes

Power Couple
Easy
Careers, Romance
Description

A married couple working in business have a friendly bet going about who will become CEO first. Can their marriage survive the cutthroat competition? Can they make room in their busy lives for more than their ambitions?

Both Sims will start out in Business Career as Assistant Managers with some relevant skills.

Notes
Requirements
Potential outcomes

Sims must not be related to each other
2 Sims who are Young Adult or older

Both Sims make it to CEO
One Sim becomes a CEO, the other becomes an Angel Investor
Sims are no longer married

Icon and name
Difficulty
Themes

Proud Parent
Intermediate
Family
Description

A Sim wants to be the best parent they can possibly be. Support your child from infancy all the way through their Teenage years with love and attention!

Can this new parent overcome all the pressures and difficulties of having a kid and lovingly nurture and raise their child?

Notes
Requirements
Potential outcomes

1-2 Sims who are Young Adult or older

Raise your child from infancy through their Teenage years

Icon and name
Difficulty
Themes

Rom-Com
Easy
Careers, Romance
Description

Two engaged Sims have a great friendship, but the romance has died. "It's Complicated" doesn't even begin to describe their relationship.

Can an aspiring comedian find humor in their personal life, make it big in showbiz, AND keep their personal life from falling apart?

Notes
Requirements
Potential outcomes

2 Sims who are Young Adult or older
Sims must be engaged to each other

A Sim makes it to the Comedian branch of the Entertainer career and got their initial romantic relationship to Lovers or greater
A Sim makes it to the Comedian branch of the Entertainer career and broke up with their initial partner
A Sim makes it to the Comedian branch of the Entertainer career and is currently Soulmates with their initial partner
A Sim makes it to the Comedian branch of the Entertainer career but their initial partner has moved out or is deceased

Icon and name
Difficulty
Themes

Super Rich Supervillain
Intermediate
Fortune, Careers
Description

Working as a Secret Agent can make a Sim cynical about the world, but it also means a lot of time spent wearing glamorous clothing, playing high-stakes poker, and being very picky about how your drinks are prepared. That luxurious lifestyle is appealing, but why settle for just being rich when you can also be villainous?

Household funds will be set to §0 after moving in to a lot.

Notes
Requirements
Potential outcomes

1 Sim who is Young Adult or older

Have 500,000 Simoleons while in the Villain branch of the Secret Agent career

Icon and name
Difficulty
Themes

Too Many Toddlers
Intermediate
Family, Skills
Description

Can a Sim master the art of caring for a bunch of Toddlers and provide all the attention, care and love that they need to thrive?

Notes
Requirements
Potential outcomes

At least 3 Toddler Sims
At least 1 Young Adult or older Sim

Toddlers reach level 3 in 4 skills

Icon and name
Difficulty
Themes

Troublemaker
Easy
Family, School, Friendship
Description

Moving to a new town and a new school could be a fresh start for a teen who's been more interested in causing mayhem than doing homework up until now. Will this teen turn things around and improve their grades at their new school, or turn the school upside down with more mischief?

Notes
Requirements
Potential outcomes

2 Sims who are Adult or older
1 Teen Sim
Adult Sims are married
Adult Sims are the parents of the Teen Sim

Teen is at least a B-student and has 5 friends
Teen is an A-student
Teen is Partners in Crime with another Sim and has done at least 1 school prank successfully

Icon and name
Difficulty
Themes

Unlucky Chef
Hard
Careers
Description

A Sim is certain their destiny is to become a world-famous chef. There's just one little problem: this Sim is way more likely than most people to accidentally start fires while cooking. It's not merely a lack of skill, it's just some freakish bad luck.

Can the Sim survive the dangerous journey to culinary excellence? Or, will they decide that playing with fire isn't for them, and making fancy drinks seems like the safer route to success?

Notes
Requirements
Potential outcomes

1 Sim who is Young Adult or older

Sim becomes a Celebrity Chef, despite the danger
Sim becomes a Celebrity Mixologist, a safer choice

Icon and name
Difficulty
Themes

Well Rounded
Intermediate
Careers, Friendship, Aspirations
Description

Some Sims need a little push in the right direction; they need to be shown the ropes, given the rundown, lowdown, and just generally rounded out.

This is the start of what could be an amazing Sim!

Notes
Requirements
Potential outcomes

1 Sim who is Young Adult or older

Sim is level 3 in any Career, has 3 Friends, and completes 2 Milestones of an Aspiration
Limited time scenarios
[
]
Icon and name
Difficulty
Themes

Best Friends Forever
Easy
Friendship, Romance, School
Description

They say best friends are forever! Form bonds by making a childhood best friend and becoming good friends with other youthful Sims. Play, Adventure and form lifelong sentiments in the passion of youth, before entering into your Teenage years.

Notes
Requirements
Potential outcomes

This scenario is only available from May 25, 2022 to June 29, 2022.

1 Child Sim
At least 1 Young Adult or older Sim

Create memories and forge the fires of friendship as a Child!

Renewed friendship, blossoming love, rejection or heartbreak. Battle Teenage angst by carrying the story forward where relationships are tested and deeper bonds can form.

Icon and name
Difficulty
Themes

Celebrate Carnaval
N/A
Holiday
Description

Carnaval is here - a time to celebrate with music, food, and dance! Dress up, have fun, and enjoy a good company; in whatever way you choose to celebrate.

Sims age Teen and up will start with some cooking skill so they can be more successful in preparing tasty dishes.

Notes
Requirements
Potential outcomes

This scenario was only available until March 8, 2022.

N/A

Cook Acarajé, Pão de Queijo or Brigadeiro together with at least one other Sim
Have a Sim listen to Carnival Beats and Dance to it
Host a Party. Costumes are strongly encouraged.

Icon and name
Difficulty
Themes

Cook Out
Easy
N/A
Description

A Sim wants to perfect the art of grilling to impress all their friends and family at the next Cook Out.

Can they earn their license to grill in time for the next big Cook Out?

Notes
Requirements
Potential outcomes

This scenario was only available from June 23, 2022 to September 7, 2022.

1 Sim who is Young Adult or Older

Prepare for the big cook out and perfect the art of grilling

Icon and name
Difficulty
Themes

Explore the Night
Hard
N/A
Description

A Sim has been curious about the night and wants to explore everything it has to offer.

Can this Sim learn what's out there at night or will they simply fall asleep?

Notes
Requirements
Potential outcomes

This scenario is only available from June 23, 2022 to July 8, 2022.

1 Sim who is Young Adult or Older

Discover what the night has to offer and complete the goals.

Icon and name
Difficulty
Themes

Frog Fanatic
Intermediate
Collections
Description

A Sim is frantically trying to gather all the frog facts of the world. After all, frogs are ribbiting creatures that can be used for a whole slew of things...even breeding!

This frog fanatic toad-ally cannot wait to hop right into the nearest pond and collect all the frog friends.

Notes
Requirements
Potential outcomes

This scenario was only available from April 27, 2022 to May 24, 2022.

1 Sim who is Young Adult or Older

Complete all the goals and find all the frog friends!

Icon and name
Difficulty
Themes

Inspirational Mentor
Easy
Skills, Friendship
Description

This Sim is all about learning and sharing her knowledge, and her goal is to help others grow! Sims can mentor in: Programming, Rocket Science, Comedy, Writing, Painting, Fishing, Handiness, Logic, Piano, Violin, Guitar, Fitness, Robotics, Fabrication and Knitting.

To mentor, reach level 10 in a mentorable skill and use the "Mentor" interaction on another Sim while they're practicing that skill. To write a skill book, reach level 5 in a skill and use the computer to "Write Skill Book" in the "Write" category.

Notes
Requirements
Potential outcomes

This scenario was only available from March 24, 2022 to April 25, 2022.

1 Sim who is female Young Adult or Older
1 Sim who is female Teen

Sim maxes a skill, mentors teen 5 times, is BFFs with mentee and writes a skill book

Icon and name
Difficulty
Themes

Surviving the Holidays
N/A
Rivalry
Description

Two Sims who hate each other are stuck living together due to a convoluted backstory involving some gnomes and real estate scams, and both are too stubborn to move out. In the spirit of the season will they find a way to mend their differences, or at least find some way to make the situation more bearable to get through the holidays?

Sims will start the Scenario as enemies with grudges against each other.

Notes
Requirements
Potential outcomes

This scenario was only available from December 1, 2021 to January 5, 2022.

Sims must not be related to each other
2 Sims who are Young Adult or older

Sims are friends without any negative sentiments
Sims are romantically involved as Enemies with Benefits