Appearance
Hair color
 Grey
Skin color
 Light
Body shape
 Fat
| | |
| --- | --- |
| Zodiac sign |  Cancer |
| Aspiration |  Knowledge |
Appearance
Hair color
 Grey
Eye color
 Dark Blue
Skin color
 Light
Body shape
 Thin
Santa Claus (also known as Santa Klaus[TS2:HHS] or Father Winter[TS4:S]) is an NPC in The Sims: Livin' Large, The Sims 2: Holiday Party Pack, The Sims 2: Happy Holiday Stuff, The Sims FreePlay and The Sims 4: Seasons that may appear on a Sim's lot and leave presents.
The Sims: Livin' Large
In The Sims: Livin' Large, if a Sim prepares a plate of cookies near a Christmas tree and a fireplace, and if all of the Sims in the household are asleep by midnight (not including pets), Santa will appear at around 3:00 AM. When Santa comes the buy mode and build mode options are not available (much like when a fire or burglary occurs). He will only appear when all the Sims in the household are asleep. Like the burglar, he does not have any social interactions, and Sims will not be able to interact with him. Santa will leave a "present" for each member of the household. Sims can unwrap these for Fun, but they will not actually contain anything. However, Santa will also leave a real present for the household, and those presents range from chess sets to televisions.
The Sims 2: Holiday Party Pack
With The Sims 2: Holiday Party Pack or The Sims 2: Happy Holiday Stuff, Santa Claus (the game spells it as Santa Klaus) will appear if there is a Christmas tree on the lot and Santa cookies were baked. Children can meet him, and he will leave one present. If there are cookies left for him to eat he will leave a good present, otherwise he will leave coal. A downside is that he will use the toilet constantly. The first time a Sim interacts with Santa Claus, they will instantly become best friends, even though he will not appear in the relationships panel and cannot be called using the phone. Oddly, in his in-game image he looks a lot like Father Time and the Therapist, whereas in-game he has a completely different face. Despite having grey hair, he has the appearance of an adult, and has an adult male voice, provided by voice actor Stephen Kearin.
Making him selectable, adding him to a family, or doing anything with him outside of his designated purposes will cause game corruption, as his character file is located in the H05.bundle.package file, and is the same for all neighborhoods. A much safer way to play as Santa is to create him in CAS, as his hair, beard and outfit are available there, as well as his face paint. However, he has a very different facial structure than any of the default faces which requires lots of skill and precision to recreate.
An exact replica of the Therapist who has the same facial structure as Santa can be downloaded here. This will save players the trouble of replicating Santa's facial structure. When viewing Santa's character data in SimPE, his personality and interests will appear blank. It is strongly not recommended to add him to a playable household using cheats, as it can cause game corruption.
Personality
Personality

Cancer

Sloppy
Neat
Shy
Outgoing
Lazy
Active
Serious
Playful
Grouchy
Nice
Genetic personality
Santa's genetic personality is that of a standard object NPC: 0 neat, 0 outgoing, 0 active, 0 playful, 0 nice. It has been noted that he has no personality points when viewed in
SimPE
.
The Sims 4: Seasons
Under Development
This article or section is about a title, or contains information about a feature or character from a title, that is either under development or yet to be released. Features that are mentioned here may be radically different in the finished product, or excluded altogether. All statements must have a valid source or they will be deleted. See
Help:Cite
for information on how to cite your sources properly.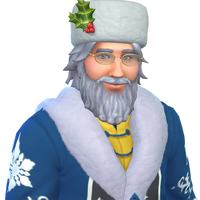 The Origin page for The Sims 4: Seasons states: "Watch as your Sims count down the calendar days until Winterfest, where presents are gifted, decorations are hung, and Father Winter pays a visit."[1]
If Father Winter is added to a household or dies, another one will be generated to take his place.[2]
He is most likely an allusion to "Ded Moroz" who is a Slavic fictional character that originated in Russia. His name translates to "Old Man Frost", "Grandfather Frost" or, in other languages, simply "Father Frost."
The Sims FreePlay
Santa in The Sims Freeplay no longer delivers presents in-game. Players can build a relationship with him though. The only adult interactions with him are "Be Nice" and "Bro Hug". Only adults can build relationships with him.
Gallery

References
Featured Article
This article is a
Featured Article
. Its layout and content is an example of excellence on The Sims Wiki.
Dates featured: December 2010.