Sable Square

The cultural center of the city, Sable Square is ideal for both cats and dogs. These people love their pets so much, they've built a monument to them right in the middle of town!
Name
Sable Square
World
Brindleton Bay
Game
 The Sims 4: Cats & Dogs
Sable Square is a neighborhood in Brindleton Bay. It is the cultural center of the city and includes a monument dedicated to cats and dogs.
There are three residential lots and two community lots. One residential lot is occupied by the Hecking family, while the other two residential lots are unoccupied, with one of them being empty. It also has a park, Pupperstone Park, and a vet clinic, Brindleton Pawspital.
"Featuring a playground for their two-legged kids and an obstacle course for their four-legged ones, it's no wonder Brindletonians spend so many of their afternoons in this quaint public park."
Pupperstone Park is park, mostly dedicated towards pets. It includes an agility course for dogs and a playset for children. Like other parks, Pupperstone Park also has multiple picnic tables, grills, chess tables and a toilet stall.
"This state-of-the-art facility offers the very best in pet care for your sick barker or meower. Rumor has it the owner is preparing for retirement soon and is interested in selling the place to a young aspiring vet."
Brindleton Pawspital is the only vet clinic in Brindleton Bay. Upon entering the front door, there is a reception room with multiple sofas, the vet podium, an aquarium, a pet toy box, a food bowl and two bathrooms. Behind the reception is a long hallway, leading to three different examine rooms, an office and the backyard. Two of the exam rooms have an exam table, with the third having the only surgery station of the clinic. The fenced off backyard only includes a trash can to dispose waste.
"A series of renovations have restored this mid-century house to its former glory. All houses are good houses, but this one is especially good."
It's A Good House is a small two-story home, owned by the Hecking family. The house includes a living room, a kitchen, two bathrooms, two office rooms, one bedroom and a terrace on the second floor. The office room on the first floor includes an easel, possibly for Brent's aspirations of becoming a painter, and the office on the second room includes a computer. The house also has a large fenced off backyard, with a grill and a picnic table.
"A charmingly classic home steps away from the heart of Sable Square, Domus Familiaris is the ideal abode for a new family moving to the Bay."
Domus Familiaris is a small, uninhabited two-story house. It includes a living room, a kitchen, a bathroom and an office room on the first floor, and two bedrooms along with a bathroom on the second floor. There is also a very large backyard, offering room to expand the house.
"Central and affordable, this property is just waiting to be developed."
Sporting Space is the only empty lot in Sable Square. However, unlike other empty lots, Sporting Space includes three pre-built trees.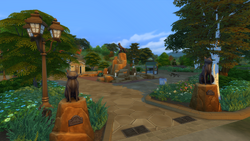 Sable Square is a quite large and open neighborhood. Close to the middle of the neighborhood is the grand monument, built by the residents of Brindleton Bay, dedicated to their cats and dogs. The monument offers a place where cats can climb up to, along with couple food stalls, picnic tables and a toilet stall surrounding it. Over on the residential side, there is an open view of a neighboring farmland.
Next to the monument plaza is a small lake with a fishing spot, that then continues as a river up to the ocean. Sims can follow the small river, until they meet up with a small island, located between the separating river. The island includes two picnic tables and a trash can.
Community content is available under
CC-BY-SA
unless otherwise noted.