Not to be confused with Inventing.

Robotics is a talent badge in The Sims 2: Open for Business and a skill in The Sims 4: Discover University.
The Sims 2: Open for Business
Edit
In The Sims 2: Open for Business, Sims can use the Robot Crafting Station to build robots, earning talent badge points along the way. At Gold level, Sims are able to build the Servo, an advanced and intelligent robot that can be used for chores around the house.
Sims with no robotics badge will only be able to craft Toy Robots.

A Sim will attain the Bronze Robotic Talent badge after quite a bit of time making Toy Robots. By acquiring the Bronze badge, Toy Robots are made faster and a new type of robots, called Roverbots, are available to build. With a Bronze badge, building a Roverbot will take about two game hours. Two types Roverbots can be built - CleanBots and HydroBots.

Acquiring the Silver Robotics Talent badge gives Sims the ability to create Toy Robots and Roverbots at a faster pace. It also gives Sims access to the new Hoverbots. Unlike Roverbots, Hoverbots can move up and down stairs. With a Silver badge, building a Hoverbot takes about two game hours. Two types of Hoverbots can be built - SentryBots and MunchieBots.

Achieving the Gold Robotics Talent badge allows Sims to make Toy Robots, Roverbots, and Hoverbots much faster. It also opens up the option to build Servos.
Craftables
Edit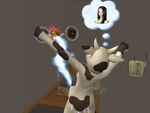 Sims who attain the robotics badges will be able to build useful robots. Robots can be sold from a Sim's inventory, directly from the Robot Crafting Station, or in a Sim-owned
business
. Crafting a robot costs a certain amount of Simoleons for every robot started, depending on the type of robot being built. Some bots can only be built after getting the bronze, silver, or gold-level badge.
Toy Robot
Edit
Toy Robot
- A basic toy robot. It doesn't have any special qualities whatsoever and acts like a normal toy. Sims with low mechanical skill will have a higher chance of making a Toy Robot in poor condition. The Toy Robot comes in three different colours and can be named when a Sim starts making one.
Children and older Sims can play with toy robots, and teens and older can tinker with them. A toy robot that is being played with may break and give the Sim a slight shock.
CleanBot
- Basically a robot that cleans up the lot it is activated in. The major shortcoming of this robot is that it can only clean up items that are on the floor or ground. In other words, it can't clean counters or showers or sinks, nor can it dispose of anything that's on a surface. However, it can empty trash cans by opening them and vacuuming out their contents, though it cannot empty trash compactors. It will not empty a toddler's potty or clean a cat's litter pan, but will vacuum up dishes or baby bottles placed on the floor. It will also vacuum up puddles, even those under other objects, and can do so safely so long as it does not come in contact with the water. A CleanBot will vacuum up old
newspapers
, but will apparently ignore worn-out
hobby magazines
. A CleanBot can clean up after a
dog
, or behind a broken HydroBot. If the outside garbage can is kicked or tipped over, it will clean up the spilled garbage. When broken, it will go around spewing out packages of trash. (Of course, it can be used to clean them up after it's fixed.)
HydroBot
- A robot that puts out fires or waters plants. When broken, it will create puddles of water everywhere. If this happens outdoors, weeds will be spawned unless the puddles are cleaned up.
SentryBot
Edit
SentryBot
- An all in one policeman robot. It will shock shoplifters and
burglars
when it gets the chance. Placed on a college residential lot, it will shock the
Cow Mascot
. It can also shock newspaper stealers, garbage can tippers, and gnome-kickers, though it may not be able to get to them before they do their deeds. It will shock residents if it detects that they are about to do something such as kick a gnome, and may do so even if the player cancels the action. Sims who come onto the lot intending to do mischief, whether because they're
furious
with a household member, or because they're just mean, are more likely to be stopped before they can do anything. It ignores wolves and stray pets who do things like tip the garbage can or roll in the flowerbeds. When broken, it will shock random people. Visitors shocked by a broken SentryBot will run from the lot. Residents who are shocked will cry.
A SentryBot will shock children who steal newspapers, tip over garbage cans, and steal gnomes. The child being shocked will seem to levitate and will run from the lot, but will not otherwise react.
MunchieBot
Edit
MunchieBot
- A robot that will fetch food from off the lot when a Sim is hungry. Of course, the meal will be paid for out of the household's funds. When broken, it will bring back rotten or burnt food. This food is either a
pizza
or Chinese food.

Servo is a special craftable robot that can be controlled by the player, much like other Sims. Building a Servo costs §3000, and takes about eight to twelve game hours, not counting breaks.
When a Servo is built, it is switched off and can only be activated by a Sim (teen or older) if there is room in the household for another member. The Servo can be activated as male or female, and can be given a name when activated. The Servo takes on the personality, aspiration, and last name of the Sim who activates it. If Lifetime Aspiration is present, the Servo will have five Aspiration benefit points when activated. If FreeTime is installed, the Servo will not take on the hobby enthusiasm of the Sim who activates it, and may or may not have the same predestined hobby.
A Servo can only be activated on a residential lot, not on a community lot. Since an activated Servo is considered an adult, a Servo cannot be activated in a college sub-neighborhood. If a Sim tries to activate a Servo in a college sub-neighborhood, the player will be informed that only students and faculty are permitted to live on-campus. An activated Servo cannot be sold.
Sims with a high mechanical skill gain badge levels considerably faster. On the other hand, Sims with a low mechanical skill will have an increased chance of making robots that need to be repaired before they can be used.
Notes and tips
Edit
Due to an oversight by the developers, the repairman will not repair broken Toy Robots, though they can still be repaired by playable Sims. A fix for this is available at DJS Sims
Broken RoverBots that have been turned off may spontaneously turn back on before they are repaired.
At times, RoverBots may have trouble finding a route to something that needs to be cleaned up, watered, or extinguished. This may cause the robot to sit on its base and seem to ignore things that would normally draw its attention. When this happens, turning the robot off, then turning it back on, may clear it up.
If Pets is installed, dogs may try to play with RoverBots.
It has been reported that HydroBots may not water garden crops from Seasons.
If Seasons is installed, RoverBots and HoverBots are not affected by rain, snow, etc., and can be left out in all weather.
Roverbots and Hoverbots will teleport back to their bases if they cannot get back any other way.
RoverBot and HoverBot bases are generic. A RoverBot returning to base will return to the nearest vacant RoverBot base, and a HoverBot returning to base will return to the nearest vacant HoverBot base.
When restocking robots, if a business owner's inventory contains both CleanBots and HydroBots, a sold CleanBot may be replaced with a HydroBot, or vice versa. Likewise, a sold SentryBot may be replaced with a MunchieBot, or vice versa, if the owner has both in inventory. A third-party fix for this is available at More Awesome Than You!.
There is always a random chance that a recently built bot will start out broken.
Robots take longer to build than other craftable items.
Roverbots and Hoverbots are controlled by an invisible NPC called "NPC - Robot". When they are turned on, they are, in some respects, treated as "pseudo-Sims". Sims walking by the lot will often stop and wave at them. If they are on a lot, a Sim serving a meal may set out extra plates, unless the player interrupts the "Serve" action. If Seasons is installed, they may sneeze in Spring. On a college lot, they may be targeted for pranks by the evil mascot, though this will always fail, as it will drop out of the mascot's action queue.

This can be seen if a robot - more commonly seen among RoverBots - cannot reach something. As a result, it will visibly complain like a human Sim does.
Bronze
With a new understanding of how wheels, motors and computer chips go together, NAME can now build "RoverBots" to do some basic chores around the place! That's worth the Bronze Robotics Talent Badge!
Silver
Wheels are very fine, but mastering hover technology has let NAME make "HoverBots" that can keep a Sim safe as well as fed. That deserves a Silver Robotics Talent Badge.
Gold
A self-aware electronic brain seems impossible, but look who's done it! With a new Gold Robotics Talent Badge, NAME can now create Servos, androids with nearly limitless possibilities!
The Sims 4: Discover University
Edit

Robotics is a skill in
The Sims 4: Discover University
that allows Sims to build
Utili-Bots
,
Quadcopters
,
Servos
, cybernetic body armor, and robotic toys. There is a university organization Sims can join to work on this skill.
[1]
Level 1 - Unlocks the option to purchase Robotic Salvage Parts on the computer or found on electronic waste.
Level 2 - Unlocks the option to craft RC Quadcopter, Computer Chips, and Mechanisms.
Level 3 - Unlocks the option to craft the Cleaner-Bot.
Level 4 - Unlocks the option to craft the Party-Bot.
Level 5 - Unlocks the option to craft the Gardener-Bot
Level 6 - Unlocks the option to craft the Fixer-Bot.
Level 7 - Unlocks the option to craft Robo-Arms.
Level 8 - Unlocks the option to craft Servos.
Level 9 - Unlocks the option to enhance Servos with Sim Defence Matrix Behavior Module.
Level 10 - Unlocks the option to enhance Servos with RoboNanny Behavior Module.
Craftables
Edit
Sims who attain the robotics skill can craft robotcs at the Dr. F's Official Robotics Workstation. Robots can be sold in the Sim's inventory, in build mode, or in retail stores from Get to Work. As Sims level up their robotics skill, they will craft more types of robots and constructions.
Chatter Bot
Edit
Chatter Bots
are basic robot toys that speak when Sims press their button. Sims can also give the toy different names.
RC Quadcopter
Edit
RC Quadcopters
are
remote control vehicles
Sims can play with.
Cleaner-Bot
Edit
Cleaner-Bots
are Utili-Bots that will clean up the lot by mopping puddles and cleaning dirty objects.
Party-Bot
Edit
Party-Bots
are Utili-Bots that will play music, serve food, as well as activate "Party Mode".
Gardener-Bot
Edit
Gardener-Bots
are Utili-Bots that will care for plants and tend gardens.
Fixer-Bot
Edit
Fixer-Bots
are Utili-Bots that will repair objects and fix electronics.
Experimental Motivator
Edit
Experimental Motivators
are devices that Sims can use to deploy motivations which will use up the device. There are two variants, Experimental Party Motivator and Experimental Study Motivator.
Robo-Arms
are decorative pieces that can be worn by Sims (if they don't have a full body outfit) to have the appearance of a cybernetic arm.
Servos are the ultimate robots Sims can build and can be playable once activated in the household.
This section is in need of additional information. You can help The Sims Wiki by expanding this section.
References
Edit
Community content is available under
CC-BY-SA
unless otherwise noted.