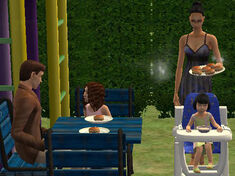 Description
When Timothy Riley moved to Belladonna Cove he wanted to start a new life and make a solid future for his daughter. Then, he met Vivian Cho and now he hopes they can join forces. He thinks Sally would enjoy having a little sister.
The Riley Family is one of the premade families in Belladonna Cove that came with the Apartment Life expansion pack. The family includes single father Timothy Riley and his daughter Sally Riley who is a child. He seems to have romantic feelings for his downstairs neighbor Vivian Cho.
Family tree

Donovan -m- Aurelai  Paul -m- Cecelia   Steve -m- Maeve  Charlie -m- Christine
         |                 |                   |                  |
       Seamus -----m----- Lucia            Sullivan -----m----- Tazanna
                   |                                     |
                Timothy ---------------m-------------- Olivia
                                       |
                                     Sally

Members
Gallery
Community content is available under
CC-BY-SA
unless otherwise noted.