Riley's story is a guided game in The Sims Life Stories. It starts when Riley Harlow lost her job. Facing eviction, Riley turned to the one person she could count on, her Aunt Sharon. Sharon had always been kind enough to help Riley out in a pinch, so Riley arranged to stay at her aunt's house in the suburb of Four Corners until she was back on her feet.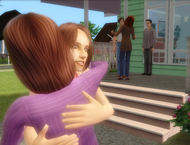 After arriving at her Aunt
Sharon
's house,
Riley Harlow
is greeted by Sharon who has to go to the bank right away. Riley then makes herself a meal and later changes clothes as well as her appearance. Soon, neighbors arrive to greet her. She meets
Mickey Smith
,
Fiona Fortuna
and
Agora Tchotchke
. She invites them all in and improves her relationship with Mickey.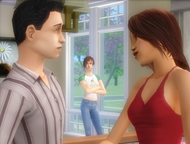 The next day, she decides to find a job, and she gets one as an Intern in the
Entertainment career
. She also checks her e-mails and sees one from Aunt Sharon saying she went to help out an old friend and will be back in a few days. Riley decides to invite over Mickey. He accepts the invitation, but on arrival, Riley finds out that Agora's with him. Despite the presence of Agora, Riley still tries to flirt with Mickey, which makes Agora to react very aggressively. As a result, Riley shoves Agora.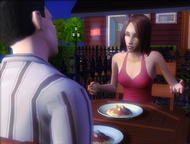 After a first day of work, Riley phones Fiona. Fiona tells Riley that Dylan Kincaid, Riley's ex-boyfriend from high school, moved to Four Corners two weeks before Riley did. Riley is surprised that Dylan is one of her neighbors. Later, Riley invites Mickey to Starlight Cafe and Market. He accepts, so they go there and play chess first and later have dinner together. They pay the bill and kiss each other for the first time.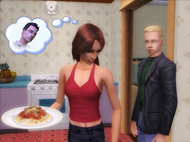 The next day, Riley gets a phone call from Dylan. He wants to come at Riley's house for dinner. Since Riley doesn't know much about cooking she tries to improve her cooking skill. Later, Dylan arrives and she gives him a romantic kiss. Riley then serves dinner. At the end of the day, Riley is conflicted about her feelings for Dylan and her relationship with Mickey.
Riley gets a phone call from Mickey who invites her to Old Grove Park. While waiting for the arrival of Mickey, Riley is introduced to Ashley Sinclair, Dylan's co-worker. According to her, Dylan often mentions Riley. After short conversation, Mickey arrives. After a barbecue prepared by Riley, Mickey asks her to be his girlfriend and she accepts.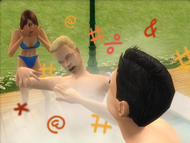 Riley decides to go to Lead's Gym with Mickey. While working out she gains a body skill. Riley and Mickey relax in a hot tub when suddenly Dylan arrives and joins them. Mickey finds out that Riley is seeing with Dylan so he attacks him. After he wins the fight, Mickey breaks up with Riley.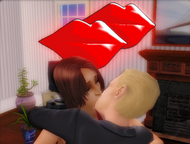 After coming home, Riley finds Dylan at her house. He comforts her and their relationship becomes more serious. Soon, Dylan says that he has to go because he received a call from work.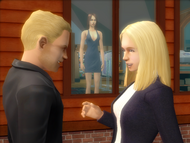 The next day, Riley receives a call from Fiona who says that Mickey and Agora are getting married soon. Riley, heartbroken, decides that she'll go shopping with Dylan and maybe get him to buy her some new dresses. Dylan rejects, saying he has to work. Puzzled, Riley sets off for The Corner Boutique on her own. After trying on a few outfits she notices that Dylan is on a date with Ashley. Angry, she attacks Dylan and wins the battle. During the fight, Dylan loses his wallet with §2000. Riley then buys clothes for those Simoleons.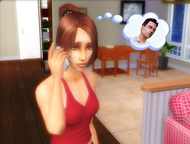 Betrayed by Dylan and conscious that she made a mistake, Riley wants to regain Mickey's trust. She invites him to her house and manages to reconcile with him. Sadly, Riley finds out that Mickey vowed not to leave Agora.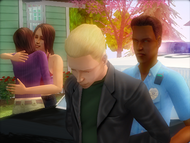 When Riley arrives home from work, Dylan appears in her front yard and starts kicking over the trash can, saying that Riley and her aunt have cost him everything. When he's done ranting and raving, he runs over and pokes Riley. At this moment Aunt Sharon arrives with the police. They arrest Dylan and take him away. Sharon tells Riley that Dylan had kidnapped her, hoping that she'd declare him her beneficiary. He also wanted to marry Riley then do away with her and keep money for himself and his accomplice, Agora. Riley phones Fiona to ask her where Mickey and Agora's wedding is taking place. After she arrives there, she reveals the whole truth to Mickey. He confronts Agora, who then attacks Riley. Riley wins the fight and police show up and take Agora away Mickey proposes to Riley on the spot, so they get married. A limo comes to take them on their honeymoon to the Simaican Isles.
Riley and Mickey arrive back at the house after their honeymoon. Aunt Sharon greets them warmly and announces that she's giving the house to Riley. She's off on a date with a fellow she met online. Riley then realizes that her simlogical clock is ticking and she wants to have a baby. After becoming pregnant she wants to turn the guest room into a nursery. Later, she decides to throw a party. During the party Riley gives birth.
Community content is available under
CC-BY-SA
unless otherwise noted.