Popularity
is an
Aspiration
in
The Sims 2
. Popularity Sims want to make friends as many people as possible. They like to meet somebody new, befriend them, make best friends with them, and eventually become BFF
[

TS2:FT

]
with them. This is a neverending cycle of friendship as they tend to want to be friends with anyone they've met. They also love to throw great
parties
, join
Greek house
[

TS2:U

]
, and have a good
Reputation
[

TS2:AL

]
.
Besides the good friendship development, some Popularity Sims also have bad sides. They tend to want to win a fight against their enemies.
Aspiration Monikers
| Level | Teen | Adult | Elder |
| --- | --- | --- | --- |
| Platinum | Teen Idol | Local Hero / Local Heroine | Senior Socialite |
| Gold | Mr. Popularity / Ms. Popularity | Noted Notable | Gray Eminence |
| High Green | Stylin' Scenester | Man About Town / Woman About Town | Long-time Luminary |
| Low Green | One of the Gang | Real Somebody | Aging Acquaintance |
| Low Red | Maladjusted Misfit | Left-Out Loner | Has-been |
| Deep Red | Abject Reject | Wretched Outcast | Forgotten Fogie |
Wants & Fears
The wants are the same for all age groups, except that young adult Sims will often have wants to become the Big Sim on Campus and to join a Greek house. Popularity Sims will often roll wants to become friends with Sims they have recently met, even though they do not know them well.
Lose Sim as friend
Lose Sims as best friend
Throw a lousy party
Make an enemy
Have an accident at a party
Friend dies
Lifetime Wants
Become Celebrity Chef
Become Captain Hero
Become General
Become Hall of Famer
Become Mayor
Have 20 simultaneous best friends
Aspiration Desperation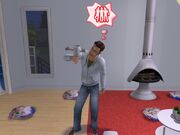 When a Sim reaches aspiration desperation, they will pull out a paper cup with a face on it that is on a stick and play with it.
FreeTime Aspiration Benefits
Level 1 - Hospitality
Level 2 - Slower Bladder and Energy Motive Decay
Level 3 - Three way calling
Level 4 - Fast Friends
Careers
Premade Sims With Aspiration
For a complete list, see Category:Popularity Sims.
Tips & Tricks
It is not recommended for a Popularity Sim to have children, unless you want a challenge; as children and toddlers fear having parties and Popularity Sims want to have parties.
Being a witch or warlock can be a good thing for Popularity sims as they have wants to make friends and have lots of best friends; powerful good aligned witches can use magic to make friends - this could stack with their 'Fast Friends' Aspiration benefit. They can throw better parties as well, by casting spells to force other sims to accept the next five interactions.
Community content is available under
CC-BY-SA
unless otherwise noted.