Peterson family

Description
When Armand DeBateau demanded an heir Jessica Peterson knew it was time to leave. She just didn't want to be tied down when Belladonna Cove was so filled with romantic possibilities. Of course when she left Armand she also left his vast fortune and standing in society. Can she make her own way?
Name
Peterson family
Family connections
Contender family, DeBateau family
Lot
Main Street Mobile Homes
Funds
§14,325
Other information
Game
The Sims 2: Apartment Life
Playability
Playable
Neighborhood
Belladonna Cove
The Peterson Family is a pre-made family residing in Belladonna Cove the neighborhood shipped with the Apartment Life expansion pack for The Sims 2. Jessica Peterson is the only living member and the ex-wife of Armand DeBateau who broke up with her when she was caught cheating on him.
Her way of life was drastically changed when she went to living with a wealthy Sim to living on her own in a trailer. She currently seems to be interested in the boxing champion Carlos Contender.
Onomatology
Peterson: "become exhausted," "cease, stop"
Family tree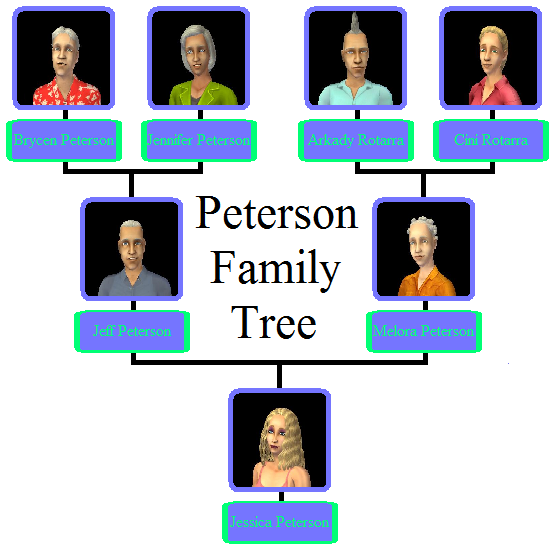 Members
Gallery
Community content is available under
CC-BY-SA
unless otherwise noted.