Raise a Floppa - The Loop
Play Sound
Not to be confused with Apartment.
Penthouses are a feature in The Sims 3: Late Night,[1] The Sims 4: City Living, The Sims 4: Discover University and The Sims FreePlay. They are fixed-size lots on top of skyscrapers.[2] They can be residential- as well as community lots.[3] People can be seen moving in and out, but the active Sims are the only ones living in the building.
The Sims 3: Late Night
[
]
Penthouses in The Sims 3: Late Night are similar to apartments in The Sims 2: Apartment Life, but do not feature the entire social experience of living in a community. The active Sims are the only playable Sims living in the building where the penthouse is located.[4][5] However, NPCs will often live there as well, but there are no determinate neighbors in penthouses. NPCs are totally random, and can be sometimes seen walking to the elevator and locking doors. Playable Sims can actually talk to them, and can ring their doorbell to get them out of their rooms in order to socialize with them.
Penthouses are based on the shell buildings in World Adventures, such as the pyramids.[6] Apart from the residential space, there is a lobby with an intercom to allow visitors to talk to Sims in their rooms[7] and an elevator.[4] Because of this, players can only build within the already existing outer walls, which means they cannot add a new floor.[2]
Most of the penthouses are one-story, one or two bedroom units and range in price from moderate to very expensive. Some of the more expensive units can have two stories.[2]
Editing the walls and adding extra room to a penthouse cannot be done in a natural way, though it is possible with the use of the "RestrictBuildBuyInBuildings false" cheats. For additional space, try deleting hidden room markers to expand the size of the unit. [n 1] It is best to make this type of building edit before moving in Sims, otherwise players could experience system errors or freezes when a family is actively occupying the space. Players can place pools on elevated floors in penthouses as well as windows as the siding in pools.[5]
Building penthouses
[
]
It is recommended that you have some experience using buydebug, and understand what debug objects do prior to building a custom penthouse/apartment. Although all apartments in the base game are referred to as penthouses, not all of them have rooms available on the top floor. They vary based on the chosen shell. To build an apartment, the player must make a residential lot of a large size. Then the player will need to type in several cheats: testingcheatsenabled, buydebug, restrictbuildbuyinbuildings off. Not required, but moveobjects makes shell placement easier.
The player can then go to the debug section of buy mode and search through the "misc or ?" section to find one of two (27 if Patch 18 is installed) high-rise shells.
The player now has the freedom to build inside or outside of the unit to complete the apartment. To make public rooms, one must use the "Public Room Marker". To make hidden rooms, the "Hidden Room Marker" is used. They are silver-metallic spheres.
Beware that using these cheats may cause your game to freeze.*
An unofficial tutorial for making an apartment-like residence (such as a house in which your Sim rents a single room with the other rooms being communal) can be found here. A tutorial on building a row of high rise buildings can be found below. http://www.youtube.com/watch?v=jr668wvntVg&list=UUrgbH1HPHsUkIzeQjNRXx-w&index=0&feature=plcp
Notes
[
]
↑

When expanding into hidden rooms, be sure to remove the outside doors so NPCs do not have access to the space.
The Sims 4
[
]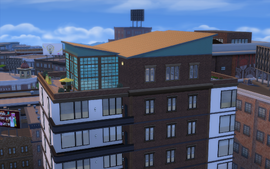 The Sims 4: City Living and The Sims 4: Discover University reintroduce the ability to build penthouses on the top of certain skyscraper buildings which are found in San Myshuno and Britechester. Penthouses are placed on top of decorative buildings that do not have any limitations beyond their lot size, so they can be demolished and rebuilt, much like other buildings on a normal lot.
Living on a penthouse lot is not very different from living on a normal lot, but in order to make the penthouse work, the player needs to add an elevator, a recycle bin, and a mailbox. Bills are delivered in the form of rent, similarly to apartments. Sims in penthouses can't have neighbors as only one household can live in them. However, other Sims are able to visit penthouses by using the elevator. There are no uninvited NPC Sims walking inside the building as only the player's Sims are allowed, making penthouses very private. Services such as maids, pizza delivery or a nanny are all possible. A community lot penthouse also needs an elevator so that Sims can travel up and down the building. Other Sims will visit these lots the same way as they visit normal community lots in other worlds.
All the playable area of penthouses can be made to be four-story. The only levels Sims can travel to by using the elevator are the ground and the playable area. Unlike apartments, there are no main lobbies in penthouses.
Building a penthouse
[
]
Building on a penthouse lot is not much different from building on normal lots. Players can build up to 4 floors, but basements cannot be made. However, pools can be built, though they cannot be built on the lot's edge, or over a balcony. Elevators and penthouse bins and mailboxes are only available to be build on penthouses, if the player doesn't glitch them to other worlds.
Glitching special penthouse objects to non penthouse lots is a possibility. The player needs but the special objects into a room and then save the room to the library, and then place them down to gain penthouse exclusive objects on other lots. However, elevators will not work and are just pure decoration, so stairs are recommended to be put somewhere.[clarification needed]
The Sims Freeplay
[
]
Penthouses were added into game with Penthouse update (6.6.2017). Players have to complete "sims and the City" discovery quest to own a penthouse. There are 3 premade penthouses and their price depends on how many buildings the player have built. Players can also build their own penthouse. These penthouses often contain some objects from previous events (bunk beds- Teen Life event, furnitures from French Romance live event, etc.) which is really useful, if the events haven't been completed in time.
References
[
]