Pendula View is a neighborhood located in Willow Creek. This nice neighborhood has four lots arranged around an intersection of two roads.
The homes are set apart from each other and the neighborhood offers some great amenities as well as beautiful landscaping. While not the most expensive neighborhood, Pendula View is somewhat exclusive.
Lots
Hallow Slough
Hallow Slough



Type:
Residential
Value:
§5,500
Size:
30x20
Hallow Slough
is an empty lot located beside Umbrage Manor. Even though this is only an empty lot, it is not cheap. While beginning Sims could possibly afford the lot, they would not have a lot of money left over to build a house and furnish it. A nice feature is that it backs up to a pond complete with fishing and a picnic area.
Umbrage Manor
Umbrage Manor



Type:
Residential
Value:
§176,277
Size:
40x30
Number of floors:
2
Number of bedrooms:
3
Number of bathrooms:
2
Umbrage Manor
is located beside Hallow Slough. This two-story home has a fence running around the entire exterior of the lot. There are planter boxes and an outdoor dining area in the backyard. This house also backs up to a community garden where neighbors like to stroll or socialize about gardening. The house has porches and balconies both in the front and the back.
Parkshore
Parkshore



Type:
Residential
Value:
§107,906
Size:
30x20
Number of floors:
2
Number of bedrooms:
4
Number of bathrooms:
3
Parkshore
is located beside Ophelia Villa. This large home is next door to a small park and backs up to some water where Sims can fish or jog along the shore. The house has two porches and a balcony. The outdoor dining area in the backyard is perfect for entertaining.
Ophelia Villa
Ophelia Villa



Type:
Residential
Value:
§254,721
Size:
30x20
Number of floors:
3
Occupants:
Goth family
Number of bedrooms:
3
Number of bathrooms:
2
Ophelia Villa
is located beside Parkshore. It is the home of the
Goth family
. This gothic-style home really stands out in the neighborhood. The interior matches the flavor of the exterior as well. In addition to two full floors, a single bedroom or study on the third floor has a door that allows Sims to access the roof, which can be used as an outdoor area for socializing or other activities.
Neighborhood amenities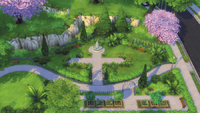 This neighborhood is surrounded by great amenities. There is a small neighborhood park where children can exercise on the playset, adults can play chess, and Sims can have a picnic.
A community garden offers locations for Sims to plant seeds, then nurture and cultivate the plants they grow. There is also a pond with fishing and a picnic table. Of all the neighborhoods in Willow Creek, this one offers the most for its Sims.
Gallery
Community content is available under
CC-BY-SA
unless otherwise noted.